Graciano (ES) / Tinta-Miúda (PT)
Variety: red | Category II | Portugal/Spain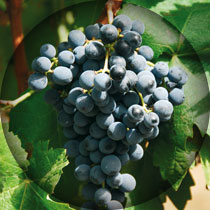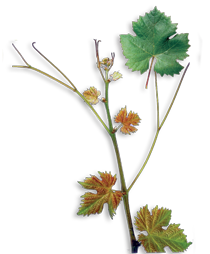 General Information
Graciano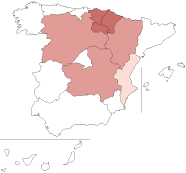 Tinta-Miúda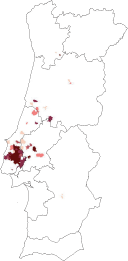 Origin: Unknown. Because of its high intravarietiel genetic variability, and its presence in countries which once formed part of the Roman Empire, it is thought that the variety originates from this period. In Spain the variety has strong representation in Rioja, with high growth rates. Vila Maior (1875) mentions the variety by its historical synonym, Tinta do Padre António.

Chief areas of distribution: Estremadura, where it must have been planted for the first time at the Quinta de Calhorda, in São Domingos de Carmões (Sobral de Monte Agraço) by Padre António. In Spain: in the Ebro Valley, Rioja and Navarre; Algeria, Australia, California, Argentina.

Official synonym(s) (national and OIV): raciano (AU, ES), Cagnulari (IT), Morastel (SU - the former USSR); Morrastel, Courouillade (FR)

Historic and regional synonyms: Bastardo Nero, Bois Dur, Bordelais, Cagliunari, Cagnonale, Cagnovali Nero, Cagnulari, Cagnulari Bastardo, Cagnulari Sardo, Cagnulatu, Caldareddu, Caldarello, Cargo Muol, Courouillade, Courouillade, Morrastel, Mourastel, Perpignan, Perpignanou Bois Dur, Plant de Ledenon, Tinta do Padre António, Tintilla, Uva Cagnelata, Xeres, Xerez, Zinzillosa, Cendrón, Juan Ibáñez, Tanat Gris, Tintilla de Rota, Tinta do Padre António (PT), Xerez, Tintilla (ES), Gros Négrette (FR), Minostello (Corsica).

Homonym(s): None known.

Area under cultivation: 550 ha.

New plantings: None.

Trend: Downward. Plantings most successful in areas with early ripening.

Varietal variability: Medium to high.

Availability of propagating material: RNSV polyclonal material. Rioja has clones awaiting certification: RJ-57, RJ-58, RJ-62, RJ-97, RJ-103, and RJ-117).



VVMD5
VVMD7
VVMD27
VrZag62
VrZag79
VVS2
Allele1
Allele2
Allele1
Allele2
Allele1
Allele2
Allele1
Allele2
Allele1
Allele2
Allele1
Allele2
226
238
235
235
179
183
186
188
251
259
141
153
Young shoot (form of tip): Open, medium anthocyanin colouration of end, medium density of hairs.

Young leaf: Green with reddish spots, medium anthocyanin colouration, hair of medium density.

Inflorescence (sex of flower): Hermaphrodite.

Young shoot: Red stripes on nodes and internodes on dorsal and ventral sides. Weak anthocyanin colouration in buds. Medium tendrils.

Mature leaf: Blade medium to large, pentagonal, five lobes. Medium green, flat, medium blistering of upper side of blade, medium convex teeth. Overlapping V-shaped petiolar sinus. Prostrate hairs of medium density and dense erect hairs on lower side of blade.

Bunch: Small to medium, short peduncle.

Berry: Small, round, blue-black. Berry skin frosted and of medium thickness. Flesh colourless, soft and very juicy. Short peduncle.

Woody shoot: Yellowish brown.


Time of bud burst: Late; 10 days after Castelão.

Berry (harvest ripe): Late.


Vigour of shoot growth: Medium.

Pruning weight:: 1,200 – 1,800 kg/ha, varies depending on clone and location.

Shoot attitude (habit): Semi-erect.

Length of internodes: Medium.

Shoot length: Long.

Tendency to form lateral shoots: High.

Rate of multiple bud bursts: Very low.

Bud fertility index: Medium.

Yield: Medium to high (8 - 15t/ha). RNSV statistical value: 2.44 kg/vine (Average of at least 40 clones in Bombarral over 8 years).

Yield consistency: Consistent.

Crop uniformity: Uniform.

Sensitivity to abiotic factors: Tolerates low moisture in soil and air; prefers a continental climate and fertile soils.

Susceptibility to fungal diseases: Some tolerance against Oidium and Anthracnose; susceptible to Botrytis; more resistant to Peronospora.

Systemic viral infection prior to selection: 75% GLRaV-3, 5% GLRaV-1, 15% GFlV, <50% RSP.

Susceptibility to Pests: Erinosis.

Bunch size: Medium to large (468 g).

Bunch density: Dense.

Berry size: Small (1.58 g). Risk of raisins developing. Berry easy to detach.

Berry skin: Thin.

Seeds per berry: 2.5.


Vineyard conduction system: Any type, but most popular is the cordon. Well suited to the goblet, too.

Soil requirement: Very adaptable variety. Responds well to clay, calcareous, water retentive soils.

Climatic requirements: Risk of insufficient ripening in soils that are too fertile or moist. Dry, warm regions required to achieve quality.

Vine density: Adapts well to regional custom.

Rootstock: Very compatible with common rootstock, preferably with short growth cycles.

Irrigation: Risk of quality being drastically compromised with excessive yield. Irrigation may lengthen growth cycle, and result in fruit not ripening.

Incidence of coulure/millerandage: With non selected material.

Spoilage of mature berries: Affected by Botrytis.

Risk of bird damage: Protection seldom necessary.

Machine harvest suitability: Well suited.


Wine type: Quality wine, with strong colouration when yields lower and harvested at full maturity.

Potential alcohol content: 12 - 13% Vol (at full maturity). RNSV statistical value: 9,91% vol. (Average of at least 40 clones in Bombarral over 2 years).

Natural acidity of must: High (5.5 – 7.5 g/l tartaric acid). RNSV statistical value: 7.05 g/l (Average of at least 40 clones in Bombarral over 2 years).

Total anthocyanins: RNSV statistical value: 837.8 mg/l (Average of at least 40 clones in Bombarral over 2 years).

Total phenols index (at 280 nm) of must: RNSV statistical value: 19.47 (Average of at least 40 clones in Bombarral over 2 years).

Risk of oxidation of must: Yes.

Colour intensity of wine: Intense.

Wine colour tonality: Garnet red.

Tannins: Monomeric 76.2 mg/l; Oligomeric 205.6 mg/l; Polymeric 479.5 mg/l.

Total polyphenol index (at 280 nm): 26 – 38

Aromatic profile: Not yet analysed.

Ageing Potential: Very good, particularly suitable for barrel ageing.

Blending recommendation: Aragonez, Castelão.

Suitable as a varietal: Possible at full maturity.

Wine Descriptors: The substantive wines of this variety are distinguished by intense colours, with an acerbity which diminishes with ageing, thus rendering a particularly pleasant wine defined by its remarkable bouquet (J. Ghira).

Wine quality: Can be very high, especially if slightly overripe and raisins have formed on the bunch. Very good ageing potential.


Variety Characteristics: unavailable