Trincadeira (PT)
Variety: red | Category I | Portugal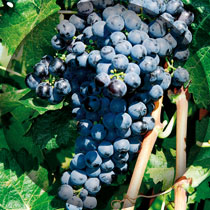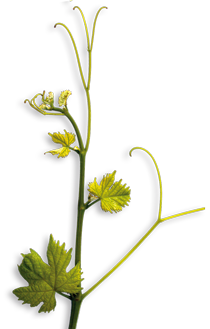 General Information
Trincadeira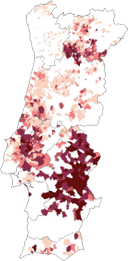 Origin: Vincencio Alarte mentioned the variety in 1711. Lacerda Lobo (1790) recognised the variety in the Beiras. Vila Maior (1875) described it as an old variety which stretched from the Douro to Ribatejo and Alentejo.

Chief areas of distribution: In the Alentejo, and all hot regions of the country; Australia 30 ha.


Official synonym(s) (national and OIV): Tinta Amarela (PT, AU),

Historic and regional synonyms: Trincadeira Preta (general), Mortágua (Torres Vedras), Preto Martinho (Arruda), Espadeiro, Murteira (Setúbal), Castiço (Aveiras), Crato Preto (Algarve); this name is mistakenly used in Cova da Beira and in Cabeção.

Homonym(s): Trincadeira-das-Pratas (Nº 319), and Trincadeira-Branca (Nº 318).

Area under cultivation: 16,200 ha.

New plantings: 10.5%.

Trend: Recently downward.

Varietal variability: Medium to low.

Availability of propagating material: RNSV polyclonal material. Certified clones 18 - 23 RNSV and 6 - 8 JBP.



VVMD5
VVMD7
VVMD27
VrZag62
VrZag79
VVS2
Allele1
Allele2
Allele1
Allele2
Allele1
Allele2
Allele1
Allele2
Allele1
Allele2
Allele1
Allele2
234
238
235
245
181
185
188
204
247
251
135
153
Young shoot (form of tip): Open, white, with medium, evenly distributed anthocyanin colouration.

Young leaf: Yellow, hairs of medium density.

Inflorescence (sex of flower): Hermaphrodite.

Young shoot: Nodes and internodes with red stripes, green on both sides of nodes and internodes. Medium to short tendrils.

Mature leaf: Medium, pentagonal, five lobes, medium green. Profile of blade irregular, medium blistering and slight goffering of upper side of blade. Convex-concave teeth of medium size, of even length and width; overlapping V-shaped petiolar sinus; open V-shaped upper lateral sinuses, prostrate hairs of medium density on lower side of blade. Peduncle shorter than main vein.

Bunch: Medium size, medium density. Medium peduncle of medium lignification.

Berry: Medium, slightly oblate; blue-black; thin skin, frosted when ripe. Colourless flesh, soft and very juicy, short pedicel.

Woody shoot: Yellowish brown.


Time of bud burst: 3 days after the Castelão.

Flowering: 1 day after the Castelão.

Berry (colour change): 4 days before the Castelão.

Berry (harvest ripe): 15 days before the Casteão.


Vigour of shoot growth: High.

Pruning weight:: 4 - 5 t/ha, depending on the clone.

Shoot attitude (habit): Semi-erect, some drooping long shoots.

Length of internodes: Medium, regular.

Shoot length: Medium, some long.

Tendency to form lateral shoots: Low.

Rate of multiple bud bursts: Low (17% of buds).

Bud fertility index: Medium; 1.32 in the Alentejo; in the Douro, 1 = 1.0; 2 = 1.4; 3 = 1.68 flowers per shoot.

Yield: High. Index 314 (12 -20 t/ha). RNSV statistical value: 1,43 kg/l (Average of at least 40 clones in Almeirim over 2 years).

Yield consistency: fter years of excessive yield reverts to the level desired by oenologists.

Crop uniformity: Uniform.

Winkler Index: 1,557 - produces a yield of 11 t/ha (Montemor).

Sensitivity to abiotic factors: Robust variety; only berries are sensitive to rain, and dry heat

Susceptibility to fungal diseases: Very susceptible to bunch Botrytis, less susceptible to Peronospora.

Systemic viral infection prior to selection: 40% GLRaV-1 , 45% GLRaV-3, 15% GLRaV-2 and -6, 30% GFkV, < 50% RSPV.

Susceptibility to Pests: Vine leaf hopper, grape rust mite (causes acariosis).

Bunch size: Medium to large (210 - 300 g), conical, oblate. Size depends on clone.

Bunch density: Dense.

Berry size: Medium to small (1.2 - 2 g), depending on the clone, easily detachable.

Berry skin: Low expression in berry skin, fragile, very thin.

Seeds per berry: 1.8-2.5, depending on the clone.


Vineyard conduction system: This variety adapts well to any training system. Long pruning may result in excessive yeilds.The Cordon Royal training system is recommended, leaving long shoots at the end; yield can be controlled by pruning foliage.

Soil requirement: Light, or sandy soils low in fertility which are dry, or have good drainage.

Climatic requirements: Hot, with many hours of sunlight. If too hot, however, there is a risk of berries drying out.

Vine density: Vines to be spaced over 1 m apart. Narrow spacing between rows is recommended.

Rootstock: Compatible with rootstock with low vigour and short growth cycle, such as R110, 41B 420 A, 3309 C. In the upper Douro 196-17 is overgrafted (but not in dry, acid soils).

Irrigation: Recommended particularly when pruning foliage to control yield, but also to avoid excessive dryness.

Incidence of coulure/millerandage: Low.

Spoilage of mature berries: Susceptible, usually because of mould rot.

Risk of bird damage: Protection urgently required if bird damage begins to occur

Machine harvest suitability: Suitable in lower temperatures, to avoid the problem of mouldering bunches.


Wine type: Quality wine, dessert wine.

Potential alcohol content: High (12,5 - 14% vol. alcohol) at a yield of only 8 t/ha. RNSV statistical value: 12,99% vol. (Average of at least 40 clones in Cartaxo over 5 years).

Natural acidity of must: Medium (4,5 - 5,5 g/l tartaric acid). RNSV statistical value: 3,56 g/l (Average of at least 40 clones in Cartaxo over 5 years).

Total anthocyanins: (RNSV statistical value: 751,53 mg/l (Average of at least 40 clones registered in Cartaxo over 5 years).

Total phenols index (at 280 nm) of must: 18 - 38, depending on the clone. RNSV statistical value: 30.01 (Average of at least 40 clones in Cartaxo over 5 years).

Risk of oxidation of must: Susceptible.

Colour intensity of wine: Intense garnet (20 - 50), varies, depending on the clone.

Wine colour tonality: 5 - 15, depending on the clone.

Oligomere Prozyanide: B1: 39,0 - 96,6; B2 9,2 - 18,1 mg/l; T2: 1,4 - 14,7 mg/l.

Total polyphenol index (at 280 nm): 14 - 40.

Risk of oxidation of wine: Medium.

Aromatic profile: Bound aroma analysis (Alentejo 1998 and 1997): total terpenoids, 114 μg/l (1997), 170 μg/l (1998); total benzenoids: 681 μg/l (1997), 828 μg/l (1998); total norisoprenoids: 210 μg/l (1997), 406 μg/l (1998).

Ageing Potential: Very good for wine of particularly good quality; particularly suited to barrel ageing.

Blending recommendation: Castelão, Aragonez, Alicante Bouchet, Touriga Franca.

Wine Descriptors: The wines are an intense garnet red. When young, its aroma carries notes of ripe plums. A grassy, somewhat peppery aroma predominates, however. With ageing it develops an extremely refined and complex stewed fruit aroma. The Trincadeira is smooth in the mouth, somewhat tart, with a taste profile akin to its aroma. (P. Laureano)

Wine quality: The quality of the wine depends on vineyard conditions. If the right grapes are produced, it gives an excellent wine; conversely, if environmental conditions are not ideal (humidity, shorter ripening period), the quality of the wine suffers.


Variety Characteristics: This variety is easily recognised by its foliage, which is green and very shiny. Although this variety drops its leaves, there is the risk of excessive yield. When this occurs, the berries have little chance of ripening healthily on the vine.