Caiño Blanco (ES)
Variety: white | Category II | Spain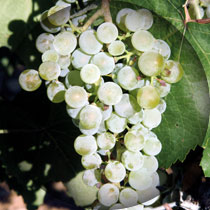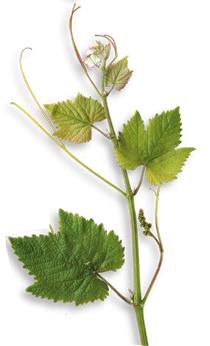 General Information
Caiño Blanco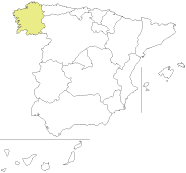 Origin: Described for the first time in Cincinnato da Costa in 1890 as an aromatic variety with small bunches and small round berries. In 1914 Darcia de Salmone described the variety in Pontevedra.

Chief areas of distribution: Galicia.

Official synonym(s) (national and OIV): Caíño Branco, Cainho (PT).

Historic and regional synonyms: Caíño de Moreira.

Homonym(s): Caiño tinto.

Area under cultivation: 60 ha (Ministry of Agriculture, 2007), less than 100 ha in Portugal.

New plantings: Low, and only in Galicia.

Trend: Upward, since the 1990s.

Varietal variability: Not yet determined.

Availability of propagating material: Certified clones are available.


VVMD5
VVMD7
VVMD27
VVS2
ZAG62
ZAG79
Allele1
Allele2
Allele1
Allele2
Allele1
Allele2
Allele1
Allele2
Allele1
Allele2
Allele1
Allele2
218
222
237
261
177
185
140
150
195
203
245
249
Recommended in Portugal: Galicia.

Authorized: Galicia.

DOC quality wine: DO Monterrei and Rias Baixas.


Young shoot (form of tip): Open, medium anthocyanin colouration, dense to very dense prostrate hairs.

Young leaf: Medium to small, pentagonal, trilobate blade, high anthocyanin colouration of main veins, short teeth.

Young shoot: Medium anthocyanin pigmentation and prostrate hairs.

Inflorescence (sex of flower): Hermaphrodite.

Mature leaf: Medium and small, pentagonal, trilobate blade, high anthocyanin colouration of main veins, short teeth. Open V-shaped petiolar sinus. Very high density of prostrate hairs between veins. Very high to medium density of erect hairs between veins, high density on main vein. Low density of prostrate hairs and very low density of erect hairs on petiole. Rectilinear teeth, no upper lateral sinuses.

Bunch: Small and dense.

Berry: Very small, round, epidermis more green than yellow. Flesh colourless and tasteless. Easy to detach.

Woody shoot: Transverse stripes on ventral side.


Time of bud burst: Early to normal.

Flowering: Early to normal.

Berry (colour change): Normal.

Berry (harvest ripe): Normal to late.


Vigour of shoot growth: Medium.

Pruning weight:: Medium to low.

Shoot attitude (habit): Upright

Length of internodes: Medium to long.

Shoot length: Medium to long.

Tendency to form lateral shoots: High.

Rate of multiple bud bursts: Medium.

Bud fertility index: Medium.

Yield: Good.

Crop uniformity: Uniform.

Sensitivity to abiotic factors: Not yet determined.

Susceptibility to fungal diseases: Susceptible to Peronospora and Oidum, some resistance to Botrytis.

Susceptibility to Pests: European Grapevine Moth (Lobesia botrana).

Bunch weight: Very low.

Seeds per berry: 4-5.


Vineyard conduction system: Traditionally, high trained, pergola system. Nowadays, cordon.

Pruning: Combined spur and cane pruning.

Green pruning: Recommended.

Soil requirement: Mosit, sandy soils, slope.

Climatic requirements: Moderately humid climate

Vine density: 2,000 – 2,500 vines/ha.

Rootstock: Incompatibility not yet determined.

Incidence of coulure/millerandage: Flower at risk with rain.

Spoilage of mature berries: Medium to minimal.

Risk of bird damage: No risk.

Machine harvest suitability: Theoretically possible.

Hand harvest suitability: Well suited, but labour-intensive.


Wine type: White wine.

Potential alcohol content: Medium to high.

Natural acidity of must: High.

Total anthocyanins: Low, or none.

Risk of oxidation of must: Low.

Tendency towards acidity loss in fermentation: Medium to low.

Colour intensity of wine: Very low.

Wine colour tonality: Pale yellowish.

Tannins: Few.

Total polyphenol index (at 280 nm): 6-7

Risk of oxidation of wine: High.

Aromatic profile: Light fruity notes, medium to low terpernol content.

Ageing Potential: Medium.

Blending recommendation: Blends with the Alvarinho are highly regarded.

Wine Descriptors: Light yellow with greenish reflexes, tart fruitness with mineral notes and good acid structure. Fine, sustained finish.

Wine quality: Very high.


Variety Characteristics: unavailable