Doña Blanca (ES)
Variety: white | Category II | Spain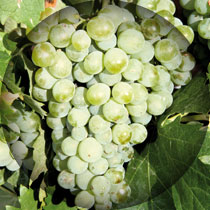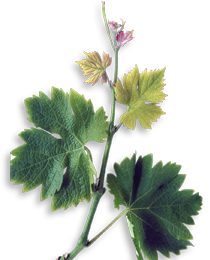 General Information
Doña Blanca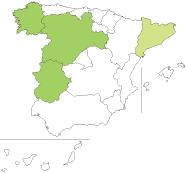 Origin: It is possible that this variety came from Extremadura. Later it was found along to pilgrim routes to Santiago de Compostella in the North-East of Spain. Precise details on its historical origins are not known.

Chief areas of distribution: Spain: Galicia, Castile and Leon, Extremadura. Portugal: Trás-os-Montes (identity assumed).

Official synonym(s) (national and OIV): Cigüente, Dona Branca, Malvasía Castellana.

Historic and regional synonyms: Moza fresca, Valenciana (D. O. Bierzo).

Homonym(s): Not yet determined.

New plantings: 3,000 ha (ES) (Ministry of Agriculture, 2007); 370 ha (PT).

Trend: Downward.

Varietal variability: Not yet analysed.

Availability of propagating material: Certified clones available: CA-10, CA-25 o CA-27.


VVMD5
VVMD7
VVMD27
VVS2
ZAG62
ZAG79
Allele1
Allele2
Allele1
Allele2
Allele1
Allele2
Allele1
Allele2
Allele1
Allele2
Allele1
Allele2
N.D.
N.D.
N.D.
N.D.
N.D.
N.D.
N.D.
N.D.
N.D.
N.D.
N.D.
N.D.
Recommended in Portugal: Galicia, Extremadura.

Authorized: Castile and Leon.

DOC quality wine: DO Bierzo, Ribera Sacra, Monterrei, Valdeorras, Tierra del Vino de Zamora, Toro, Arribes and Tierra de León.


Young shoot (form of tip): Very open, very dense prostrate hairs, no anthocyanin colouration.

Young leaf: Low anthocyanin colouration.

Young shoot: Green nodes and internodes on dorsal and ventral sides.

Inflorescence (sex of flower): Hermaphrodite.

Mature leaf: Large, pentagonal, five to seven lobes, slightly overlapping medium upper lateral sinuses. Bright green, irregular profile with slight blistering on upper side of blade and slightly undulate near petiolar sinuses. Dense fluffy hairs between veins and dense erect hairs on veins. Half-open V-shaped petiolar sinus. Petiole somewhat shorter than main vein, with medium density fluffy hairs. Medium rectilinear convex teeth. High length-width ratio.

Bunch: Medium size, dense, with short peduncle.

Berry: Medium to large, irregular, green yellowish in colour, elliptic, difficult to detach, firm skin. Flesh colourless, very juicy, firm and tasteless.

Woody shoot: Well-formed, yellowish brown, glabrous on dorsal side.


Time of bud burst: Normal to late.

Flowering: Normal.

Berry (colour change): Normal.

Berry (harvest ripe): Early to Normal.


Vigour of shoot growth: High.

Pruning weight:: Medium to heavy.

Shoot attitude (habit): Semi-erect.

Length of internodes: Long.

Shoot length: Long.

Tendency to form lateral shoots: Low.

Rate of multiple bud bursts: Zero.

Bud fertility index: Medium to low.

Yield: Medium to high.

Crop uniformity: Medium.

Sensitivity to abiotic factors: None known.

Susceptibility to fungal diseases: Low susceptibility to Plasmopara, susceptible to Oidium and Botrytis.

Susceptibility to Pests: No known specific susceptiblity.

Bunch weight: Medium.

Berry size: Medium size.

Seeds per berry: 2-3.


Vineyard conduction system: Traditionally, the goblet, but nowadays predominantly cordon.

Pruning: Mixed, cane and spur pruning.

Green pruning: Recommended.

Soil requirement: Light, well-drained.

Climatic requirements: Moderate winters and summers, with low rainfall.

Vine density: 2,500 – 3,000 vines/ha.

Rootstock: No known incompatibility.

Incidence of coulure/millerandage: Low, somewhat more susceptible if rain occurs during flowering.

Spoilage of mature berries: Susceptible, especially in rainy conditions.

Risk of bird damage: No special risk.

Machine harvest suitability: Suitable.

Hand harvest suitability: Suitable, under normal conditions.


Wine type: White wine, also used in blends.

Potential alcohol content: Medium.

Natural acidity of must: Medium-high to high.

Total anthocyanins: None, or very low.

Risk of oxidation of must: High.

Tendency towards acidity loss in fermentation: Medium.

Colour intensity of wine: Low.

Wine colour tonality: Yellowy with green reflexes.

Tannins: Few.

Total polyphenol index (at 280 nm): 6-7.

Risk of oxidation of wine: High.

Aromatic profile: Light fruity notes (citrus), fowery aroma.

Ageing Potential: Suitable ageing properties, but mostly in blend form.

Blending recommendation: Blending with the Gouveio/Godello and Trajadura produces a particularly good wine.

Suitable as a varietal: Well suited.

Wine Descriptors: Wine has a low colour intensity with citrus tones, pleasant fruity notes which balance in the mouth and present a certain complexity, with a rapid finish.

Wine quality: Pleasant, light, aromatic. Suitable as a varietal, but most often used in blends.


Variety Characteristics: unavailable