Baga (PT)
Variety: red | Category II | Portugal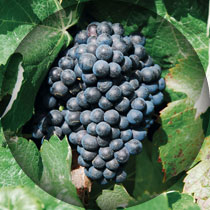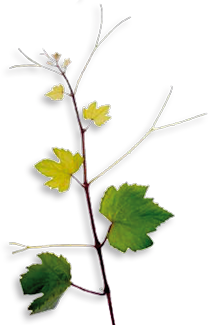 General Information
Baga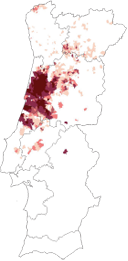 Origin: As early as 1875, Vila Maior had described the distribution of this variety as being restricted to the Bairrada.

Chief areas of distribution: More than half the viticultural area of the Bairrada is planted to this variety.

Official synonym(s) (national and OIV): Bagrina Crvena (YU).

Historic and regional synonyms: Paga Dívida (Dão), Poeirinho (Ribatejo, Cantanhede, Coimbra), Tinta da Bairrada (Douro), Carrasquenho (Tomar), Baga de Louro (Dão and Bairrada).

Homonym(s): Not yet determined.

Area under cultivation: 9,200 ha.

New plantings: 0.6%.

Trend: Downward.

Varietal variability: Medium.

Availability of propagating material: RNSV polyclonal material available. Clonal material in the process of being certified.


VVMD5
VVMD7
VVMD27
VrZag62
VrZag79
VVS2
Allele1
Allele2
Allele1
Allele2
Allele1
Allele2
Allele1
Allele2
Allele1
Allele2
Allele1
Allele2
232
240
235
235
179
189
188
204
247
251
145
157
DOC quality wine: Douro, Bairrada, Beira Interior, Alenquer, Ribatejo, sub-regions of Almeirim, Cartaxo, Chamusca, and Tomar.

IPR quality wine: Encosta de Aire, Alcobaça.

Regional wine: Minho, all sub-regions of the Beiras, Estremadura, Ribatejo, Alentejano, and the Algarve.


Young shoot (form of tip): Open, with crimson red tip and strong, dense hairs.

Young leaf: Green with bronze spots, stronger, denser hairs on ventral side.

Inflorescence (sex of flower): Hermaphrodite.

Mature leaf: Medium size, pentagonal, five lobes; medium and dark green blade, blade slightly twisted, slight blistering on blade, dense hairs on lower side of blade. Short convex teeth, Slightly open V-shaped petiolar sinus. Closed U-shaped upper lateral sinuses.

Bunch: Medium size, conical, dense, peduncle of medium length.

Berry: Round, medium size, blue-black, skin of medium thickness, soft flesh.


Time of bud burst: Normal, 10 days after the Castelão.

Flowering: Normal, 6 days after the Castelão.

Berry (colour change): Normal, 2 days after the Castelão.

Berry (harvest ripe): Late, 2 weeks after the Castelão.


Vigour of shoot growth: Medium to high.

Pruning weight:: 3.5 kg/ha.

Shoot attitude (habit): Semi-erect, although some shoots are plagiotropic, and fall off.

Length of internodes: Medium.

Shoot length: Medium.

Tendency to form lateral shoots: High.

Rate of multiple bud bursts: Low.

Bud fertility index: High.

Yield: Medium, with up to 15,000 l/ha. (RNSV statistical value: 2,200 kg/vine (Average of at least 40 clones in Anadia over 5 years).

Yield consistency: Stable.

Crop uniformity: Uniform.

Winkler Index: High, and therefore ripening problems occur with September rainfall.

Sensitivity to abiotic factors: None, normally.

Susceptibility to fungal diseases: Low susceptibility to Peronospora and Oidium, extremely susceptible to berry rot (Botrytis).

Systemic viral infection prior to selection: 45% GLRaV-3, <50% GFkV.

Susceptibility to Pests: Medium susceptibility to the vine leafhopper.

Bunch size: 260 g on average, but irregular.

Bunch density: Very dense.

Berry size: Large (1.5 g).

Berry skin: Medium firmness, sensitive.

Seeds per berry: 2.6.


Vineyard conduction system: Cordon Royal with wire frame trellising; traditionally multiple Guyot.

Soil requirement: Suited to all soil types, although recommendations for improved quality include well drained soil, of lower fertility and limited humidity; calcareous clay soils of the Jura are considered good, whilst soils with a low pH value are considered unsuitable.

Climatic requirements: Intense solar irradiation for a long growth cycle.

Vine density: Vines should be spaced at least 1.2 m apart.

Rootstock: 161-49, 3309 C, 41B.

Irrigation: Only in very dry, poor soils.

Incidence of coulure/millerandage: None.

Spoilage of mature berries: Risk of inadequate ripening and grape rot.

Risk of bird damage: Low.

Machine harvest suitability: Well suited.


Wine type: Quality wine, red sparkling wine, rosé wine.

Potential alcohol content: Medium. Because of its high yield capacity, this variety cannot ripen in fertile soils. Very high quality wine can be achieved with this variety by limited yield. RNSV statistical value: 10.35% vol. (Average of at least 40 clones in Anadia over 7 years).

Natural acidity of must: Relatively high (6 - 7 g/l). RNSV statistical value: 5.88 g/l (Average of at least 40 clones in Anadia over 7 years).

Total anthocyanins: RNSV statistical value: 865.86 mg/l (Average of at least 40 clones in Anadia over 2 years).

Total phenols index (at 280 nm) of must: RNSV statistical value: 30.52 (Average of at least 40 clones in Anadia over 2 years).

Risk of oxidation of must: Only where sanitary vine protection fails.

Colour intensity of wine: High.

Wine colour tonality: Garnet.

Risk of oxidation of wine: Very stable.

Aromatic profile: High levels of terpenoids, sesquiterpenoids and norisoterpenoids.

Ageing Potential: Excellent. Well suited to barrel ageing.

Blending recommendation: Touriga Nacional, Syrah.

Wine Descriptors: The wines are characterised by intense and ruby or garnet, sometime violet colour. The aroma is very fruity, with touches of mulberry, compote, honey, and camphor. Young wines on the palate often seem somewhat thin, with strong tannin notes, and a little tight. As a mature wine, the tannins become more rounded and the wine gains some depth (Cardoso 2005).

Wine quality: This wine has caused mild controversy because of its high yield capacity. With careful quality monitoring, however, this variety is capable of delivering some of the best wines in Portgual.


Variety Characteristics: The mature leaf differs from other in that a tooth may appear in the upper lateral sinuses. It is particularly susceptible to small, dense, and light bunches, drooping shoots and late budburst, as well as a thin berry skin. The wines have a high tannin content, are fresh, and age well.