Monastrell (ES)
Variety: red | Category I | Spain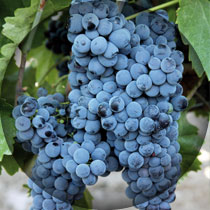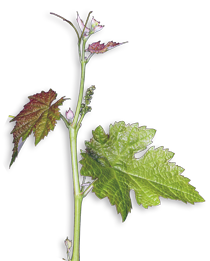 General Information
Monastrell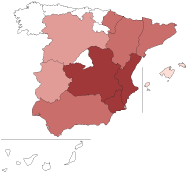 Origin: Valcárel described the variety for the first time in the region of Valencia in 1765 as a red variety and made it clear that it was not a white variety. In 1807 Clemente recognised it as an Andalusian variety. Rovasente (1877) knew the variety as Morastel Negro, also called Morratel or Morrastel in the Levante and in central France. Zúñiga (1905) referred to its presence in Rioja.

Chief areas of distribution: Murcia.

Official synonym(s) (national and OIV): Mourvedre.

Historic and regional synonyms: Alcayata, Balzac, Espar, Garrut, Matáro, Morrastel, Mourvèdre, Murviedro, Negria (Greece), Plant de St Grilles (France), Rossolo negra (Italy).

Homonym(s): Morrastel, as the Graciano is called in France.

Area under cultivation: 63,000 ha (Ministry of Agriculture, 2007).

Trend: Constant.

Varietal variability: Medium.

Availability of propagating material: Certified propagating material exists, e.g. Clone 369; Murcia has undertaken a clone breeding programme with this variety.


VVMD5
VVMD7
VVMD27
VVS2
ZAG62
ZAG79
Allele1
Allele2
Allele1
Allele2
Allele1
Allele2
Allele1
Allele2
Allele1
Allele2
Allele1
Allele2
222
236
247
247
175
185
130
150
187
203
249
259
Recommended in Portugal: Castilla La Mancha, Catalonia, Murcia, Valencia.

Authorized: Andalusia, Aragon, the Balearics, Extremadura, Madrid, Navarre, Basque Country, Rioja.

DOC quality wine: Alella, Alicante, Almansa, Binissalem, Bullas, Calatayud, Cariñena, Cataluña, Cava, Conca de Barberá, Costers del Segre, Empordá, Jumilla, La Mancha, Manchuela, Montsant, Penedés, Pla i Llevant, Ribera del Guadiana, Tarragona, Valencia and Yecla.


Young shoot (form of tip): Open, low colouration, strong with prostrate hairs.

Young leaf: Medium to weak anthocyanin colouration of first six leaves, very dense prostrate hairs.

Young shoot: Reddish on ventral side, green with reddish stripes on dorsal side.

Inflorescence (sex of flower): Hermaphrodite.

Young shoot: Medium to large blade, pentagonal, three lobes with slightly open upper leaf sinuses, medium to pronounced main veins, open U-shaped petiolar sinus. Very dense prostrate hairs between veins. Veins at base of petiolar sinus reddish in colour. No erect hairs on veins or petiole. Rectilinear medium sized teeth. Medium length-width ratio.

Bunch: Small to medium large with short petiole.

Berry: Small to medium, round, regular. Blue-black colouration, very diifcult to detach. Skin of medium thickness. Flesh soft to slightly firm, colourless, very juicy.

Seed: Brown, striped.

Woody shoot: Brown, ribbed.


Time of bud burst: Late, a few days after the Tempranillo.

Flowering: Flowering occurs after that of the Tempranillo.

Berry (colour change): Normal to late.

Berry (harvest ripe): Very late veraison, which risks upsetting alcohol, phenol and physiological characteristics (149-day growth period in Valladolid).


Vigour of shoot growth: Low to medium.

Pruning weight:: Medium.

Shoot attitude (habit): Heliotropic.

Length of internodes: Long.

Shoot length: Very long.

Tendency to form lateral shoots: Negligible.

Rate of multiple bud bursts: Zero.

Bud fertility index: Medium to very high, with high fruit set, and tendency towards inconsistency.

Yield: Yield varies greatly from clone to clone, and can be as much as 40% above that of the Tempranillo (Valladolid).

Yield consistency: Low.

Crop uniformity: Medium.

Recommended yield: 5,000 to 8,000 kg/ha.

Sensitivity to abiotic factors: This variety needs no special care, but is susceptible to shoots breakage in strong wind, and Simazine is used to treat any toxic reactions arising from this. Very sensitive to drought.

Susceptibility to fungal diseases: Low susceptibility to excoriosis (Phomopsis viticola Sacc.) and Botrytis, medium susceptibility to Oidium. Susceptible to Peronospora and sour rot.

Susceptibility to Pests: Red spider mite.

Bunch size: The berry size is approximately 29% bigger than that of the Tempranillo.

Bunch weight: Medium.

Berry size: The berry size is approximately 29% bigger than that of the Tempranillo.

Seeds per berry: 3-4.


Trellising and support: Cordon with short pruning or goblet training system.

Vineyard conduction system: Free, or with wire frame trellis.

Pruning: Short pruning.

Green pruning: Recommended, but not as important from this variety as it is for others.

Soil requirement: Very sensitive to magnesium and potassium deficiency.

Climatic requirements: this variety should only be cultivated in hot regions.

Vine density: 1,500 – 2,500 vines/ha.

Rootstock: Compatibility not yet determined.

Incidence of coulure/millerandage: Low.

Spoilage of mature berries: Minimal.

Risk of bird damage: Low.

Machine harvest suitability: Well suited.

Hand harvest suitability: Well suited.


Wine type: Rosé wines, young red wines, crianza red wines.

Potential alcohol content: With high yields, sugar content is 1.5º Brix below comparable varieties.

Natural acidity of must: Slightly higher acid content than the Tempranillo.

Total anthocyanins: High.

Risk of oxidation of must: Low.

Tendency towards acidity loss in fermentation: Low.

Colour intensity of wine: High, on average.

Wine colour tonality: In the red range.

Tannins: Medium to high.

Total polyphenol index (at 280 nm): 50.

Risk of oxidation of wine: Low.

Aromatic profile: Floral aromas, strong tendency toward ripe fruit.

Ageing Potential: Medium to good, depending on the maturity of the harvested grape.

Blending recommendation: With varieties which have either a low alcohol content or low acidity.

Suitable as a varietal: Has the prequisites for a quality wine.

Wine Descriptors: (Finca El Encín): The wine attains its highest oenological potential when harvested at full maturity. This is when the result is a high alcohol, strongly pigmented wine with well-structured tannins, which with early harvests presents as somewhat tart, but low in acid. The wine has a low risk of oxidation and is well suited to carbonic maceration.

Wine quality: Excellent variety. Suitability as a quality wine and blend wine.


Variety Characteristics: Not available.