Malvasía Volcánica (ES)
Variety: white | Category III | Spain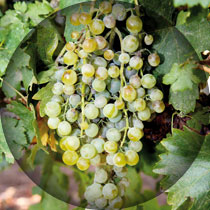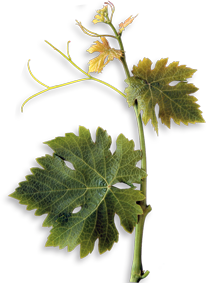 General Information
Malvasía Volcánica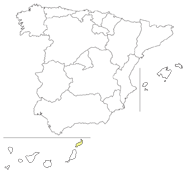 Origin: This variety is not described in the official Spanish catalogue of grapevine varieties, neighter does it receive a mention in the OIV list. it is cultivated today in La Geria, in Central Lanzarote, between the cities of Mozaga and Yaiza. Because the Canary Islands belong to none of the original Vitis gene pools, and natural migration can be excluded because of its insularity, the variety must have been introduced with others by the Portuguese or the Spanish after they settled there in the 15th and 16th centuries. It is not clear to what extent the Malvasía Candia variety from Crete was introduced by Henry the Navigator. Garcia de los Salmones (1914) mentions a Malvasía of the Canaries (in La Ortava). Zerolo et al. (2006) note its cultivation on Lanzarote and various other places in the archipelago. According to molecular analyses, and based on the fact that this variety appears nowhere else, it is assumed that it arose as a result of a spontaneous hybridisation of the Malvasía Aromática with the Bermejuela variety.

Chief areas of distribution: Geographically very limited. In the early 17th century, South Lanzarote was primarily farmland before volcanic eruptions spanning six years covered the country in ash and lava. This marked the beginning of the special cultivation of Malmsey (the English name for Malvasia on the island).

Official synonym(s) (national and OIV): Malvasía de Lanzarote

Historic and regional synonyms: Málaga, Malvasía, Malvasía portuguesa, Sebastián García.

Molecular genetic analysis: Analyses have been conducted which suggest a possible genetic link between this variety and the Malvasía de Sitges (Rodriguez Torres et al. 2009:8, www.inia.es/sjar)

Homonym(s): Numerous. In the Middle Ages, Malvasia was more a generic term than a specific name of a grapevine variety. For example, the Malvasía Castellana is the Doña Blanca; the Malvasía del Bierzo is the Chasselas; the Malvasía Riojana is the Alarije; and the Malvasía Aromática is the Malvasía de Sitges.

Area under cultivation: Marginal, only of relevance within the region.

New plantings: Insignificant.

Trend: Considerable demand for this variety in the Canary Islands.

Varietal variability: Low, because it is a new variety.

Availability of propagating material: Only traditional material available.



VVMD5
VVMD7
VVMD27
VrZag62
VrZag79
VVS2
Allele1
Allele2
Allele1
Allele2
Allele1
Allele2
Allele1
Allele2
Allele1
Allele2
Allele1
Allele2
222
232
241
241
175
179
187
187
241
249
142
142
Recommended in Portugal: Canary Islands.

DOC quality wine: DO Gran Canaria, Lanzarote and Tacoronte-Alentejo.


Young shoot (form of tip): Open shoot tip, no anthocyanin colouration, no, or sparse, colourless prostrate hairs.

Young leaf: The fourth distal leaf has a bronze upper side; hairs on lower side of blade are almost completely absent.

Young shoot: During flowering, the tendrils are plagiotropic. Green with red stripes at the middle third of the shoot at the nodes and internodes on the ventral side; green on the dorsal side.

Inflorescence (sex of flower): Hermaphrodite, with fully developed gynoecium and stamens.

Mature leaf: Medium size, round, with indentations. Five lobes, medium undulation on upper side of blade. Convex teeth. Sparse anthocyanin colouration of main veins. Very sparse fluffy hairs on lower side of blade, very sparse erect hairs on nerves or between veins. Slightly open, wedge-shaped, and toothless petiolar sinus. Open, wedge-shaped, and toothless upper lateral sinuses.

Bunch: Funnel shaped, with three long wings. Medium density, short peduncle.

Berry: Round, approximately 16 mm long. Flesh coloured, soft, very juicy and aromatic. Green to yellowish skin. Difficult to detach from pedicle.

Woody shoot: Yellowish brown, striped.


Time of bud burst: Normal.

Flowering: Early.

Berry (colour change): Normal.

Berry (harvest ripe): Early.


Vigour of shoot growth: Low to medium.

Pruning weight:: 980 g/vine.

Shoot attitude (habit): Semi-erect.

Length of internodes: Medium.

Shoot length: Very long; most as long as 5m.

Tendency to form lateral shoots: High.

Rate of multiple bud bursts: Insignificant.

Bud fertility index: Between 1.2 und 1.5 flowers per shoot.

Yield consistency: Low, depends very much on location.

Crop uniformity: Medium.

Sensitivity to abiotic factors: As with the Malvasía Aromática, high resistance to frost.

Susceptibility to fungal diseases: Particularly susceptible to Oidium, medium susceptibility to Botrytis and Peronospora.

Susceptibility to Pests: Caterpillars (Cryptoblabes gnidiella).

Bunch weight: Medium, 400 g.

Seeds per berry: 2.3.


Vineyard conduction system: Vase and Goblet.

Pruning: Responds well to both long and short pruning.

Green pruning: Necessary because of variety's high vigour.

Soil requirement: Adapts to most soils. Because of its high vigour, poorer soils are preferred.

Climatic requirements: Adapts well to the island climate, but should be cultivated at lower altitudes. One problem is that the viticultural region of the Canary Islands always has temperatures above 10ºC.

Vine density: Because of its vigour, close vine spacing is recommended.

Rootstock: Because the Canary Islands has no incidence of Peronospora, no rootstock is required.

Incidence of coulure/millerandage: Low.

Spoilage of mature berries: Minimal.

Risk of bird damage: Yes.

Machine harvest suitability: Theoretically possible.

Hand harvest suitability: Well suited.


Wine type: Wines may be dry, or sweet, or dessert wines.

Potential alcohol content: 14% vol.

Natural acidity of must: 6.2 g/l.

Total anthocyanins: Low, or absent.

Risk of oxidation of must: Medium.

Tendency towards acidity loss in fermentation: Low.

Colour intensity of wine: Low.

Wine colour tonality: Pale yellow, with a tendency towards golden, depending on sugar concentrations.

Tannins: Few.

Total polyphenol index (at 280 nm): 8.

Risk of oxidation of wine: Medium.

Aromatic profile: Strong terpenoid compounds.

Ageing Potential: Not recommended, because the aromas do not age well.

Blending recommendation: Because of its highly esteemed aromatic characteristics, this wine is not blended.

Wine Descriptors: The wine is pale yellow in appearance with golden reflexes. Good residual sweetness, followed by a well-sustained aroma with notes of honey, as well as citrus and tropical fruits. In the mouth the wine is balanced, with a considerably fruity aspect; its low acid lacks freshness, but it is replete and elegant. Wines with residual sweetness are worthy of special mention.

Wine quality: An important quality wine, because of its aromatic structure.


Variety Characteristics: This variety is grown exclusively on the Canary Islands, and cultivation is very limited in its extent.