Marufo (PT)
Variety: red | Category III | Portugal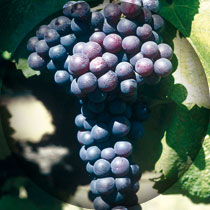 General Information
Marufo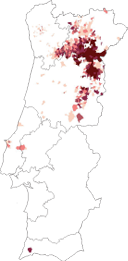 Origin: Highlands in the North-East of Portugal.

Chief areas of distribution: Beira Interior, Trás-os-Montes. Probably a very old variety. Dias (2004: 6) conducted a taxonomic comparison of the variety with various Vitis silvestris varieties and discovered great similarity between this variety and a wild variety in Castelo Branco.

Official synonym(s) (national and OIV): Not yet determined.

Historic and regional synonyms: Abrunhal, Faso Mourisco, Mourisco Tinto (Dão), Barrete de Padre (Dão), Marufa, Marujo, Mourico (Beira Interior).

Homonym(s): Unknown.

Area under cultivation: 5,000 ha.

New plantings: Almost no new plantings, or replacements.

Trend: In decline.

Varietal variability: Not analysed.

Availability of propagating material: No breeding has been carried out to maintain variety.


VVMD5
VVMD7
VVMD27
VrZag62
VrZag79
VVS2
Allele1
Allele2
Allele1
Allele2
Allele1
Allele2
Allele1
Allele2
Allele1
Allele2
Allele1
Allele2
228
232
235
239
183
194
188
192
247
257
145
147
DOC quality wine: Valpaços, Planalto Mirandês, Porto, Douro, Távora-Varoso, Beira Interior.

IPR quality wine: Valpaços, Planalto Mirandês.


Regional wine: Trás os Montes, Beiras.


Young shoot (form of tip): Open with crimson red tip, sparse erect hairs.

Young leaf: Yellow with copper tinges. Erect hairs on lower side of blade.

Young shoot: Green, with green nodes.

Inflorescence (sex of flower): Hermaphrodite.

Mature leaf: Large leave, round, three lobed, medium green blade, irregular, slight blistering. Spare erect hairs on lower side of blade. Short, convex teeth. Barely open V-shaped petiolar sinus. Open V-shaped upper lateral sinuses.

Bunch: Large, conical, medium density, medium to long peduncle.

Berry: Medium size, slightly oblate, blue-black.


Time of bud burst: Normal.

Flowering: Normal.

Berry (colour change): Normal.

Berry (harvest ripe): Normal.


Vigour of shoot growth: High.

Pruning weight:: 2,000 – 3,000 kg/ha.

Shoot attitude (habit): Semi-erect.

Length of internodes: Medium to long.

Shoot length: Long.

Tendency to form lateral shoots: Low.

Rate of multiple bud bursts: Zero.

Bud fertility index: Medium to high.

Yield: Variable, can exceed 20 t/ha.

Yield consistency: Inconsistent.

Crop uniformity: Uniform.

Winkler Index: High.

Sensitivity to abiotic factors: Heat causes drought stress.

Susceptibility to fungal diseases: Robust, rustic variety.

Systemic viral infection prior to selection: Not yet analysed.

Susceptibility to Pests: Rustic variety.

Bunch size: Large (400 - 500 g).

Bunch density: Loose to medium.

Berry skin: Of medium thickness. Does not rot easily, even in excessive moisture at veraison.

Seeds per berry: Medium, when berry is large.


Vineyard conduction system: Adapts to all types.

Soil requirement: Schist or slate.

Climatic requirements: Warm climate.

Vine density: 3,000 – 3,500 vines/ha.

Rootstock: Compatible with R99, R110, P1103.

Irrigation: No experience, but recommended if drought stressed.

Incidence of coulure/millerandage: Highly susceptible.

Spoilage of mature berries: Minimal.

Risk of bird damage: Negligible.

Machine harvest suitability: No experience.


Wine type: Quality red wine, noble aromatic rosé wine, with some potential as a sparkling wine.

Potential alcohol content: 12.5% vol.

Natural acidity of must: 6 g/l.

Total anthocyanins: Low, not yet analysed.

Total phenols index (at 280 nm) of must: Low, not yet analysed.

Risk of oxidation of must: High.

Colour intensity of wine: Low.

Wine colour tonality: Pinkish red.

Tannins: Low, not yet analysed.

Risk of oxidation of wine: Wine is more stable than the must.

Aromatic profile: Not analysed.

Ageing Potential: Low.

Blending recommendation: Historically, has been blended with the Síria (white) to make rosé. Nowadays, it is blended with the Rufete.

Wine Descriptors: Red wine from the right terroir in good years is of great interest. Weak ruby to red colouration, smooth and pleasant taste, with floral aroma, fruity with notes of currant, caramel and coffee, with a long finish. Does not age well in bottle (L. Ribeiro).

Wine quality: Because of its weak colour, this wine is currently not fashionable. In fact, this variety produced wines with a floral aroma not unlike the Pinot from Burgundy or the Rhine Valley, and therefore its export potential should be examined more closely. The variety shows little ability to adapt to regions outside the Beira Alta province, and has not produced satisfactory wines in any other region.


Variety Characteristics: Important variety in the recent past, in the era of big name rosé wines. The variety is easy to recognise by reason of its high vigour and very large, round and dark leaves. The variety has both hermaphrodite and female vines. Very rustic and robust, this variety has lost some market prominence in recent years owing to its weak colour, but it has the potential to develo