Parellada (ES)
Variety: white | Category III | Spain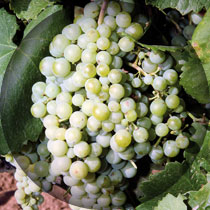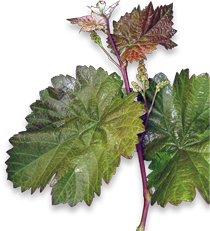 General Information
Parellada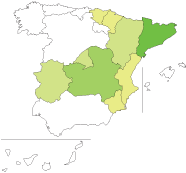 Origin: This variety comes from Catalonia. In 1872, it was described by José Raventós Fatajó as a sparkling wine, which, together with the Xarello and Macabeo, formed the base for Cava wines.


Chief areas of distribution: Cultivated primarily in Catalonia, although trials growing this variety in other regions in central Spain are being conducted.

Official synonym(s) (national and OIV): Montonec, Montonega.

Historic and regional synonyms: Moltonach.

Homonym(s): Not known.

Area under cultivation: 10,500 ha.

New plantings: Stable.

Trend: Constant.

Varietal variability: Medium to low.

Availability of propagating material: Certified material, such as clone E-3, is available.


VVMD5
VVMD7
VVMD27
VrZag62
VrZag79
VVS2
Allele1
Allele2
Allele1
Allele2
Allele1
Allele2
Allele1
Allele2
Allele1
Allele2
Allele1
Allele2
224
230
241
247
175
177
187
203
245
245
130
140
Recommended in Portugal: Catalonia

Authorized: Aragon, the Balearics, Castilla la Mancha, Extremadura, Madrid, Galicia, Navarre, the Basque Country, Rioja, Valencia.

DOC quality wine: Alella, Binissalem, Cariñena, Cataluña, Cava, Conca de Barberá, Costers del Segre, La Mancha, Montsant, Penedés, Pla de Bages, Pla i Llevant, Ribera del Guadiana, Tarragona, Terra Alta and Vinos de Madrid.


Young shoot (form of tip): Very open, dense erect hairs with low anthocyanin colouration.

Young leaf: Very low anthocyanin colouration, medium density prostrate hairs between veins.

Young shoot: Nodes and internodes green with red stripes on the dorsal side, green on the ventral side.

Inflorescence (sex of flower): Hermaphrodite.

Mature leaf: Medium size, round, pentagonal, slightly open petiolar sinus, slight undulation on upper side of blade, with low anthocyanin colouration. Slight notching on slightly overlapping leaf sinuses, hairs of medium density between veins, no erect or prostrate hairs on veins. Petiole same size as main vein. Convex teeth of medium size, with low length-width ratio.

Bunch: Large , medium density, short peduncle.

Berry: Medium to large, not always completely uniform, elliptic, skin of medium thickness. Flesh colourless, slightly firm. Peduncle difficult to detach.

Woody shoot: Well-formed, yellow-brown.


Time of bud burst: Early.

Flowering: Normal.

Berry (colour change): Late.

Berry (harvest ripe): Very late.


Vigour of shoot growth: Medium.

Pruning weight:: Low.

Shoot attitude (habit): Erect.

Length of internodes: Medium.

Shoot length: Medium, with a few long shoots.

Tendency to form lateral shoots: Few.

Rate of multiple bud bursts: Zero.

Bud fertility index: High.

Yield consistency: Very consistent.

Crop uniformity: Very uniform.

Winkler Index: 4-5 on a scale of 1 to 5.

Sensitivity to abiotic factors: Very rustic variety.

Susceptibility to fungal diseases: Comparatively low susceptibility to fungal diseases.

Susceptibility to Pests: Low susceptibility.

Bunch weight: Very heavy.

Seeds per berry: 3-4.


Vineyard conduction system: Short cordon.

Pruning: Very short pruning recommended to reduce yield.

Green pruning: Not absolutely necessary.

Soil requirement: Prefers open, not too fertile, preferably calcareous soils at high altitude (300 m – 600 m). Wine quality is compromised in clay soils.

Climatic requirements: Moderate to warm climate with a very long growing season.

Vine density: Medium, at approximately 2,500 vines/ha.

Rootstock: Incompatibility not yet determined.

Incidence of coulure/millerandage: Susceptible.

Spoilage of mature berries: Very minimal.

Risk of bird damage: High risk because of late maturity.

Machine harvest suitability: Well suited.

Hand harvest suitability: Very well suited.


Wine type: Cava sparkling wine, blend wines, and light regional varietals.

Potential alcohol content: Medium sugar concentration corresponding to 11º alcohol and higher.

Natural acidity of must: Low to medium.

Total anthocyanins: None to low.

Risk of oxidation of must: Low.

Tendency towards acidity loss in fermentation: Low.

Colour intensity of wine: Very low.

Wine colour tonality: Yellowy with green reflexes.

Tannins: Few.

Total polyphenol index (at 280 nm): 8.

Aromatic profile: Medium to low aromatic qualities.

Ageing Potential: Medium.

Blending recommendation: For Cava, with Xarell, Macabeo and Chardonnay. For table wine, fruity and full-bodied white varieties. To increase ageing potential, blending with Sauvignon Blanc or Chardonnay is recommended.

Wine Descriptors: The Parellada is distinguished by a fine honey and subtle floral aroma at the start. In the mouth, the fruity acids, with fine apple notes and citrus tones, add refreshment to the light and elegant, but markedly structured body.

Wine quality: As a table wine from the right terroir, very good. An essential component in Cava wines.


Variety Characteristics: unavailable