Vinhão (PT)
Variety: red | Category III | Portugal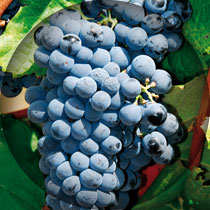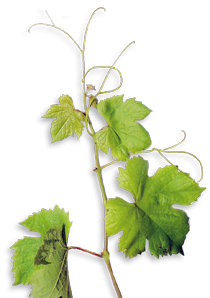 General Information
Vinhão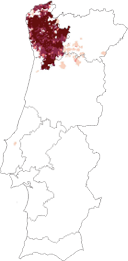 Origin: Originated in the North of Portugal. Rebello da Fonseca (1790) mentioned this variety by one of its synonyms. According to Truel, the variety was introduced to the Douro from Minho in 1790, because of its better colour, to improve Douro wines.


Chief areas of distribution: Minho.

Official synonym(s) (national and OIV): Souzao (AU).

Historic and regional synonyms: Espadeiro de Basto, Negrão, Caiño Gordo (ES).

Homonym(s): Erroneously called Souzão in the Douro.

Area under cultivation: 6,100 ha.

New plantings: 1.2%.

Trend: Upward (2.2%).

Varietal variability: Medium

Availability of propagating material: RNSV polyclonal material, certified clone90 - 96 RNSV.


VVMD5
VVMD7
VVMD27
VrZag62
VrZag79
VVs2
Allele1
Allele2
Allele1
Allele2
Allele1
Allele2
Allele1
Allele2
Allele1
Allele2
Allele1
Allele2
222
226
235
259
189
189
188
196
245
251
135
137
DOC quality wine: In all sub-regions of Vinho Verde; the erroneous name of Souzão still appears in regulations governing regional classification of varieties in the Douro.

Regional wine: Minho, Trás-os-Montes.


Young shoot (form of tip): Open, medium anthocyanin colouration at very fuzzy end.

Young leaf: Yellow with bronze spots; spots with anthocyanin colouration and dense fuzzy hairs.

Young shoot: Red stripes at nodes and internodes on ventral side. Tendrils of medium length.

Inflorescence (sex of flower): Hermaphrodite.

Mature leaf: Medium size, wedge-shaped. Three, sometimes five, lobes. Medium green blade, profile striate, sparse to dense blistering. Rectilinear or concave-convex teeth. Slightly open V-shaped petiolar sinus. Open V-shaped upper lateral sinuses; lower side of blade fuzzy, but less dense hairs near the main veins.

Bunch: Medium to large, cylindrical to conical with wings. Density medium to high. Peduncle of medium size, with medium lignification.

Berry: Medium size, uniform. Round, blue-black. Berry skin of medium thickness, very frosted. Flesh coloured, soft and very juicy. Peduncle of medium size.


Time of bud burst: 8 days after the Castelão.

Flowering: 6 days after the Castelão.

Berry (colour change): 6 days after the Castelão.

Berry (harvest ripe): Late.


Vigour of shoot growth: Medium to high.

Pruning weight:: From 1,500 kg/ha in warm zones, to 2,000 kg/ha in maritime areas.

Shoot attitude (habit): Erect.

Length of internodes: Long to medium.

Shoot length: Medium.

Tendency to form lateral shoots: Medium.

Rate of multiple bud bursts: Few.

Bud fertility index: Medium, 1.8 flowers per shoot.

Yield: Medium: 10,500 kg/ha. RNSV statistical value: 6.46 kg/vine (Average of at least 40 clones in Arcos de Valdevez over 4 years).

Yield consistency: Consistent.

Crop uniformity: Uniform.

Winkler Index: 1,289 (average).

Sensitivity to abiotic factors: Sensitive to drought stress; drought damage occurs.

Susceptibility to fungal diseases: Some resistance to Oidium and Peronospora; susceptible to Esca.

Systemic viral infection prior to selection: 37% GLRaV-3, <50% RSPV.

Susceptibility to Pests: Susceptible to red spider mite.

Bunch size: Medium to small (174 - 205 g).

Bunch density: Medium.

Berry skin: Of medium thickness.

Seeds per berry: 2.7.


Vineyard conduction system: Adapts to all types of training systems.

Soil requirement: Open soils.

Climatic requirements: Leaf damage occurs as a result of drought stress. Wind resistant.

Vine density: No special requirements.

Rootstock: Compatible with 196-17, 161-49, 101-14, SO4.

Irrigation: Recommended in very dry situations.

Incidence of coulure/millerandage: Not susceptible.

Spoilage of mature berries: Minimal.

Risk of bird damage: None.

Machine harvest suitability: Well suited.


Wine type: Red Vinho Verde (lighter wine), table wine and Port wine.

Potential alcohol content: Medium to low (11.5% vol.). RNSV statistical value: 10.22% vol. (Average of at least 40 clones in Famalicão over 5 years).

Natural acidity of must: High (7 - 9 g/l tartaric acid). RNSV statistical value: 11,05 g/l (Average of at least 40 clones in Famalicão over 5 years).

Total anthocyanins: RNSV statistical value: 1,274.3 mg/l (Average of at least 40 clones in Famalicão over 1 year).

Total phenols index (at 280 nm) of must: 60. RNSV statistical value: 43.57 (Average of at least 40 clones in Famalicão over 1 year).

Risk of oxidation of must: Low.

Colour intensity of wine: Intense (19). Cincinnato (1900) mentioned this variety as a speciality with its red-coloured flesh, but also noted that berries with colourless flesh may also be found on the same bunch. By contrast Vila Maior (1876) stated that white wine could be achieved with this variety by fermenting without the skins. The only explanation is that he was speaking of a different variety with a similar sounding name. One more argument for the necessity to revise variety names as contained in Portaria 428/ 2000.

Wine colour tonality: 0.54, Garnet.

Tannins: Monomeric 18.6 mg/l; Oligomeric 65.2 mg/l; Polymeric 611.2 mg/l.

Risk of oxidation of wine: Low.

Aromatic profile: Vinous, notes of wild fruit, herbal scents.

Ageing Potential: Good.

Blending recommendation: With Boraçal, and varieties lacking in colour, but which have a good aromatic structure.

Wine Descriptors: Wines have an interesting garnet red colour, with weak aromas hinting at forest fruits such as wild strawberries, little body, and a light herbal taste.

Wine quality: Medium


Variety Characteristics: The only Portuguese grapevine variety with red flesh, which can therefore be used as a teinturier. Variety does not adapt well to different geographical regions, and is therefore limited to the North of the country.