Palomino Fino (ES) / Malvasia-Rei (PT)
Variety: white | Category III | Portugal/Spain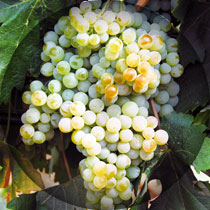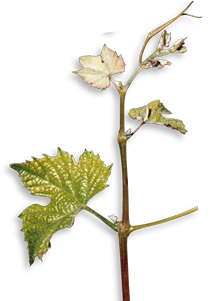 General Information
Palomino Fino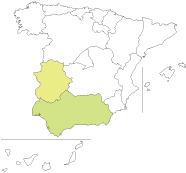 Malvasia-Rei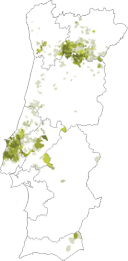 Origin: It is supposed that this variety was introduced to the area where it is mostly highly concentrated (Jerez de la Frontera) by seafaring Greek merchants (Amaral, 1994). In fact, the variety exists in Cyprus. It was first brought to Portugal in the previous millennium because of its unusually high yield. The variety must have been named after Fernan Yáñez Palomino, a Knight under King Alfonso X of Castile.

Chief areas of distribution: As Sherry: South-West Andalusia (11,000 ha), and in the Sherry Triangle – that area of Spain situated between Jerez de la Frontera, El Puerto de Santa Maria and Sanlúcar de Barrameda. As table wine: in Castile and Leon (4,800 ha), Galicia (4,200 ha), Portugal (6,500 ha), France (800 ha) and Australia. A variety of the same name was described by Alonso de Herrera at the beginning of the 15th century (as cited in Agricultura General, 1645:16, Madrid) as being a red variety. In the 18th and 19th centuries it is referred to by its historical synonyms by diverse authors in Portugal (Lacerda Lobo, Gyrão, Vila Maior), but none state its real origin.


Official synonym(s) (national and OIV): Palomino Fino (ES), Malvasia Rei (PT) Bayoud (DZ), Listna (AU, FR, CY), Fransdruif (ZA), Merseguera (DZ), Listrão (Madeira). In addition to the Palomino Fino, two other somaclonal variations are considered as separate regional varieties; they are the Palomino Basto and the Palomino de Jerez.

Historic and regional synonyms: Albán, Albar, Blanco Jerez, Jerez, Jerez Fina, Doradillo, Dorado, Palomilla, Palomina, Zarcillada, Horgazuela, Jerez, Jerez fina, Tempranilla Blanca (ES); Listán, Listán Blanco, Listán Gacho (FR), Listán White French (ZA), Xeres, Malvasia Rei, Seminario, Olho de Lebre, Seminário, Assario do Alentejo (PT).

Homonym(s): The genetically similar Palomino, Palomino Basto, Palomino Chato (ES). There are numerous homonyms (Nº 169 - 180) for the synonymous Portuguese variety Malvasia Rei, and, according to the OIV, even more internationally.

Area under cultivation: 6,500 ha (PT) 20,000 (ES).

New plantings: Less than 0.1%.

Trend: No significant change.

Availability of propagating material: No clonal selection has taken place in Portugal. Spanish clones have been selected in Jerez.


VVMD5
VVMD7
VVMD27
VrZag62
VrZag79
VVS2
Allele1
Allele2
Allele1
Allele2
Allele1
Allele2
Allele1
Allele2
Allele1
Allele2
Allele1
Allele2
228
240
235
245
185
194
188
194
251
257
145
147
Authorized: Cantabria, Galicia, Castile and Leon

DOC quality wine: Douro, Távora-Varosa, Cova da Beira sub-region, Arruda, Évora, Portalegre

Regional wine: Minho, Trás-os-Montes, Beiras, Estremadura, Ribatejano, Terras do Sado, Alentejano, Algarve.


Young shoot (form of tip): Open with crimson red tip, medium to dense fluffy hairs.

Young leaf: Green, fluffy hairs of medium density on lower side of blade.

Young shoot: Red stripes on nodes and internodes, with slightly reddish buds.

Inflorescence (sex of flower): Hermaphrodite.

Mature leaf: Large, pentagonal, five lobes, dark green blade. Slightly irregular, medium blistering on upper side of blade, main veins pale yellowish. Fluffy hairs of medium density and spare erect hairs on lower side of blade. Convex teeth of medium size. Slightly open V-shaped petiolar sinus, closed U-shaped upper lateral sinuses.

Bunch: Medium to large, conical, medium density, peduncle of medium length.

Berry: Round, medium to large, yellowish green. Skin of medium thickness, soft flesh.

Woody shoot: Yellowish brown.


Time of bud burst: Normal, 4 days after the Fernão Pires.

Flowering: Normal, 3 days after the Fernão Pires.

Berry (colour change): Normal, 5 days after the Fernão Pires.

Berry (harvest ripe): Late, 3 weeks after the Fernão Pires.


Vigour of shoot growth: Medium.

Pruning weight:: 700 g/vine.

Shoot attitude (habit): Semi-erect and plagiotropic.

Length of internodes: Medium to long.

Shoot length: Some long shoots, thin.

Tendency to form lateral shoots: Medium.

Rate of multiple bud bursts: Low (15%)

Bud fertility index: Very high: 1.5 – 1.8 flowers per shoot. Varies, depending on the clone.

Yield: Index 340 – 420, depending on the clone; very high (over 25 t/ha).

Yield consistency: Regular.

Crop uniformity: High.

Sensitivity to abiotic factors: Very robust in cool calcareous soils.

Susceptibility to fungal diseases: Appears to be susceptible to Peronospora and Anthracnose; less so to Oidium. Medium susceptibility to Botrytis.

Systemic viral infection prior to selection: 20% GFkV, < 50% RSPV.

Susceptibility to Pests: Robust variety.

Bunch size: Medium 220 – 300 g, depending on the location.

Bunch density: Dense; looser in dry zones.

Berry skin: Firm.

Seeds per berry: 2.16.


Vineyard conduction system: Short pruning (Cordon Royal).

Soil requirement: Deep calcareous, water retentive soils; in poor soils, prefers not to receive full sun.

Climatic requirements: Hot, with good solar irradiation.

Vine density: High, for both row and vine spacing.

Rootstock: Depends on the pH of the soil.

Irrigation: Risk of excessive yield.

Incidence of coulure/millerandage: None.

Spoilage of mature berries: Prefers locations where a long growth cycle is possible. Risk of rot with excessive humidity.

Risk of bird damage: Very low.

Machine harvest suitability: Well suited.


Wine type: Dessert wine, with oxidative fermentation (Sherry type wine, fermented using the flor yeast method), and table wine, of low alcoholic content.

Potential alcohol content: Low (10% -11% vol.).

Natural acidity of must: Low. On average, 3 - 5 g/l tartaric acid.

Risk of oxidation of must: Risk of oxidation in this variety has determined the type of wine and its methods of fermentation (evidence of which is the fact that sherry is produced using more than 90% of grapes of this variety). The top-fermented flor yeasts work anaerobically to convert all the sugar into alcohol, then the yeast itself begins an aerobic conversion process, and covers the high quality fermented wine with a grey-white protective layer (similar to that of undesirable wild yeasts) which shields the wine from uncontrolled oxidation, and allows the typical sherry maturation to begin. The Solera method is crucial to this classical ageing technique.

Colour intensity of wine: Straw coloured. Sherry-type wine is light brownish.

Ageing Potential: Wines made using reductive fermentation methods have little aroma and are short-lived. Those produced by oxidative fermentation (Sherry), however, have a more intense complex of aromas, and high ageing potential, whether bottle aged or barrel aged.

Blending recommendation: Pedro Ximénez, (Table wine: Jampal, Fernão Pires).

Wine Descriptors: If fermented at very low temperatures this variety may lose colour, but produces extraordinarily aromatic wines. Sherry type wines develop clearer, more delicate tones (Fino) with hints of hazel nut (Amontillado), which have a rich, full-bodied, almost oily effect. (P. Chomé 2005).

Wine quality: Very high, although limited to the Jerez viticultural regions.


Variety Characteristics: unavailable