Sercial (PT)
Variety: white | Category III | Portugal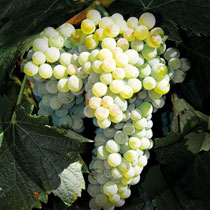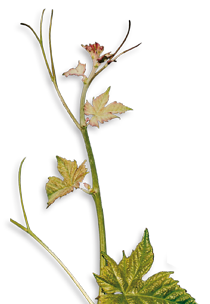 General Information
Sercial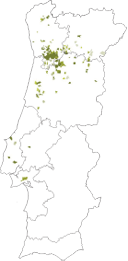 Origin: Vincente Alarte (1711) noted two possible synonyms. Lacerda Lobo (1790) recorded the variety in Murça. Gyrão acknowledged the variety in the Vinhos Verdes and in Basto, but curiously, not in Madeira. Vila Maior (1875) wrote a botanical description of the variety. The first extensive description, however, is to be found in Portugal Vitícola, written by Cincinnato da Costa (1900).

Chief areas of distribution: Minho (60%).


Official synonym(s) (national and OIV): Esgana-Cão (PT).

Historic and regional synonyms: Esgana de Castelo de Paiva (Vinho Verde), Sarcial, Serceal, Arinto (erroneously, in Almada), Uva Cão (Dão), Cachorrinho (Dão). It must be a very old variety, born out by its widespread intravarietal variability.

Homonym(s): There are three phonetically similar varieties: the Cercial, Cerceal, and Sercial. The Cerceal Branca is a variety cultivated in the Douro and the Dão. The Cercial is a variety in Bairrada. The Sercial is a variety from Madeira, the Douro and Bucelas, and corresponded to the variety being described here.

Area under cultivation: 100 ha.

New plantings: Below 0.1%.

Trend: Variety experiencing little growth, probably because of the lack of practical research.

Varietal variability: Very high.

Availability of propagating material: RNSV polyclonal material, certified clones 49, 105 JBP.


VVMD5
VVMD7
VVMD27
VrZag62
VrZag79
VVS2
Allele1
Allele2
Allele1
Allele2
Allele1
Allele2
Allele1
Allele2
Allele1
Allele2
Allele1
Allele2
226
238
235
249
181
185
188
194
247
259
135
153
DOC quality wine: Porto, Douro, Bucelas, Madeira.

IPR quality wine: Lafões.

Regional wine: Minho, Trás-os-Montes, the Beiras in the Beira Alta and Beira Litoral sub-regions, Estremadura, Ribatejo, Terras do Sado, Alentejano, Azores


Young shoot (form of tip): Open, oblate, high anthocyanin colouration, with hair generally of medium density.

Young leaf: High anthocyanin colouration. Very dense propstrate hairs on ventral side.

Young shoot: Red stripes on the ventral side, and greenish on the dorsal side of nodes and internodes. Light anthocyanin colouration on buds, short tendrils.

Inflorescence (sex of flower): Hermaphrodite.

Mature leaf: Small to medium, pentagonal, four lobes, dark green blade, profile of blade in cross-section slightly revolute. Slight blistering of upper side of blade. Rectilinear convex-concave teeth of medium size. Slightly overlapping petiolar sinus. Open U-shaped upper lateral sinuses. Very dense fluffy hairs and sparse erect hairs on lower side of blade. Short petiole.

Bunch: Medium, dense, conical with several ramifications. Short peduncle, poor lignification.

Berry: Small, elliptic, yellow gold; skin streaky, of medium firmness. Flesh colourless, soft, very juicy. Short pedicel. 4 days after the Fernão Pires.


Time of bud burst: 4 days after the Fernão Pires.

Flowering: Normal, 2 days after the Fernão Pires.

Berry (colour change): Late, 10 days after the Fernão Pires.

Berry (harvest ripe): Late, two weeks after the Fernão Pires.


Vigour of shoot growth: High.

Pruning weight:: 800 – 1,100 g /vine, depending on the clone.

Shoot attitude (habit): Semi-erect, some plagiotropic.

Length of internodes: Medium.

Shoot length: Long, often with poor lignification at the tip.

Tendency to form lateral shoots: High, with ramification, short at the base.

Rate of multiple bud bursts: Low.

Bud fertility index: 1 = 1.07; 2 = 1.64; 3 = 1.61 Flowers per shoot.

Yield: Very low with traditional material. Yield increases (to 12 - 25 t/ha) when clonal material used. RNSV statistical value: 1.19 kg/vine (Average of at least 40 clones in Bucelas over 4 years).

Yield consistency: Consistent.

Crop uniformity: Uniform.

Winkler Index: 1,334 for a 20 t/ha yield (Montemor).

Sensitivity to abiotic factors: Very resistant to humidity. Heat in poor soils causes damage to bunches. Highly sensitive to boron deficiency.

Susceptibility to fungal diseases: Susceptible to Oidium and Botrytis. Medium susceptibility to Peronospora and Excoriosis (Phomopsis viticola Sacc.).

Systemic viral infection prior to selection: 30% GLRaV-1, 98% GLRaV-3, <50%RSPV.

Susceptibility to Pests: Low susceptibility.

Bunch size: Simple, small bunches, as well as large bunches with two wings, which can become very large (100 - 300 g).

Bunch density: Medium.

Berry skin: Thick, lacking in elasticity.

Seeds per berry: 2.3, small, longish.


Vineyard conduction system: Suited to all types, but the double cordon training system is recommended.Deep fertile soils with adequate humidity.

Soil requirement: Deep fertile soils with adequate humidity.

Climatic requirements: Adapts well to various climates, including the Mediterranean climate, the moderate coastal climate, and the mainland interior.

Vine density: Normal.

Rootstock: Compatible with R 110, R99, 420 A, 196-17.

Irrigation: Irrigation recommended in hot zones.

Incidence of coulure/millerandage: Not susceptible.

Spoilage of mature berries: Minimal.

Risk of bird damage: No risk.

Machine harvest suitability: Very well suited.


Wine type: Quality wine, dessert wine.

Potential alcohol content: Very good (14% Vol). (RNSV statistical value: 10,24% vol. (Average of at least 40 clones in Bucelas over 1 year).

Natural acidity of must: Very high (6 - 9 g/l tartaric acid). (RNSV statistical value: 7.44 g/l (Average of at least 40 clones in Bucelas over 1 year).

Risk of oxidation of must: Low.

Colour intensity of wine: Lemon yellow, light greenish.

Tannins: Monomeric 3.2 – 3.8 mg/l; Oligomeric 14.1 – 23.4 mg/l; Polymeric 56.7 – 88.5 mg/l (Fermentation in the skins).

Risk of oxidation of wine: Low.

Ageing Potential: Very good, more than several decades.

Blending recommendation: Boal, Rabo de Ovelha, Malvasia Fina, Síria, Trincadeira das Pratas, Bical.

Wine Descriptors: The young wine has an immediate citrine colouration with a touch of emerald. Oenologically, its suitability as a varietal is problematic because of its extremely high acid content. In coastal regions, the variety contributes little to the improvement of quality; rather, it is aggressively acid and creates disharmony. By contrast, in hot zones it produces a citrus, mineral acid with excellent ageing potential, and develops quality aromas of green fruit with a mineral note. Its most promising characteristic is its ability to improve quality when blended with varieties low in acid

Wine quality: Excellent in the hot climate of Portugal, which tempers its dominant acid profile.


Variety Characteristics: This grapevine variety has considerable genetic variability, excellent characteristics. Its yield depends heavily on environmental conditions and on the clone selected. From an oenological point of view, it is an important blending partner, by reason of its acid content, but in the warm climate of Portugal, is also suitable as a varietal.