Bastardo (PT)
Variety: red | Category III | Portugal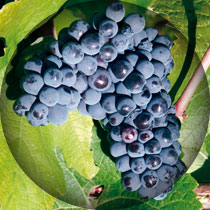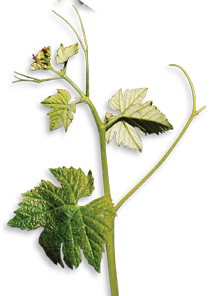 General Information
Bastardo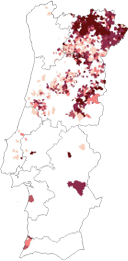 Origin: The variety was mentioned by Vincencio Alarte in 1711. In 1790, Rebelo da Fonseca described it as unmistakable because of its capacity for sweetness. In 1875, Vila Maior commented that it was known throughout the country for its early veraison. Count Odart (1874) noted the variety and deemed it to be a variant of the Trousseau du Jura (FR).

Chief areas of distribution: Douro. Australia (Gros Cabernet, 250 ha), South Africa (a Port wine substitute, 188 ha), California (Chauché noir), France (Troussau, 150 ha) and Argentinia (Pinot Gris de Rio Negro).


Official synonym(s) (national and OIV): Trousseau (FR), Merenzano (ES), Gros Cabernet (AU).

Historic and regional synonyms: Bastardinho (Dão, Algarve, Arruda), Abrunhal (Beira Alta), Graciosa (previously Nº 147).

Homonym(s): Throughout its history, there have been several varieties bearing similar names (cf. the Marquês de Carvalho, 1912, and the description of five different cultivars by J. C. Vasconcelos, 1941/2). The drafting of the official Portuguese grapevine variety list and the revision of variety names of 2000 have resulted in there being fewer Bastardos: the Bastardo Branco (Nº 36), the Bastardo Roxo (Nº 37), and the Bastardo Tinto (Nº 38) still exist.

Area under cultivation: 1,100 ha.

New plantings: 0.3%.

Trend: Growing, but at a very low rate.

Varietal variability: Not yet analysed.

Availability of propagating material: Certified clone Nº 48 JBP.


VVMD5
VVMD7
VVMD27
VrZag62
VrZag79
VVS2
Allele1
Allele2
Allele1
Allele2
Allele1
Allele2
Allele1
Allele2
Allele1
Allele2
Allele1
Allele2
238
238
235
235
175
189
188
188
245
247
145
153
DOC quality wine: Porto, Douro, Távora-Varosa, Bairrada, Dão, Beira Interior, Palmela, Madeira.


IPR quality wine: Chaves, Valpaços, Planalto Mirandês.


Regional wine: Trás-os-Montes, Beiras, Estremadura, Ribatejano, Terras do Sado and the Algarve.


Young shoot (form of tip): Open with crimson end and fine hairs of medium density.

Young leaf: Green with bronze spots. Fluffy hairs of medium density on lower side of blade.

Young shoot: Light reddish striped, medium anthocyanin colouration on buds.

Inflorescence (sex of flower): Hermaphrodite.

Mature leaf: Medium size, round, three lobes, medium green blade, irregular, medium blistering of upper side of blade; fluffy hairs of medium density on lower side of blade; medium convex teeth; slightly open V-Shaped petiolar sinus, restricted by main veins at base. Open V-shaped upper lateral sinuses.

Bunch: Small, cylindrical, dense, peduncle of medium length.

Berry: Elliptic and short. Small to medium to large, depending on the clone. Blue-black to violet, with considerable variation in colour between the different clones, although always of medium intensity. Skin of medium thickness, soft flesh.


Time of bud burst: Early, 3 days after the Castelão.

Flowering: Early, 2 days after the Castelão

Berry (colour change): Early, 2 days after the Castelão.

Berry (harvest ripe): Early, one to two weeks before the Castelão.


Vigour of shoot growth: Medium.

Pruning weight:: 2,000 – 2,800 kg/ha, depending on the clone.

Shoot attitude (habit): Semi-erect, very long plagiotropic to drooping shoots.

Length of internodes: Varies between short and long, some very long.

Shoot length: Long.

Tendency to form lateral shoots: High, especially at the end of larger shoots.

Rate of multiple bud bursts: Few.

Bud fertility index: Low to high. In the Douro: 1 = 1.15; 2 = 1.24; 3 = 1.41 flowers per shoot. Varies greatly, depending on the clone.

Yield: Low to medium, depending on the clone .

Yield consistency: Consistent.

Crop uniformity: Uniform.

Winkler Index: 1,406 for a 12 t/h yield (Montemor).

Sensitivity to abiotic factors: Rustic variety, highly sensitive to soils deficient in boron (Maromba).

Susceptibility to fungal diseases: Sensitive to Peronospora, Oidium, and Botrytis.

Systemic viral infection prior to selection: 24% GLRaV-1, 75% GLRaV-3, 5% GFkV, <50%RSPV.

Susceptibility to Pests: Mites, medium susceptibility to Phylloxera.

Bunch size: Small, dense, 150 g.

Bunch density: Dense.

Berry skin: Not particularly firm.

Seeds per berry: Medium, 2.1; long and herbaceous.


Vineyard conduction system: All types of training systems. Best yields achieved with the Guyot. The vine is relatively easy to train.

Soil requirement: Deep, dry, and warm soils. In schist soils the growth cycle is longer. This variety adapts to the most diverse soils (schist, well drained clay soils, alluvial soils, and sandy soils with adequate water).

Climatic requirements: Warm, with absence of drought stress as season ends.

Vine density: Vines to be spaced more than 1 m apart.

Rootstock: Compatible with R110, 420A, 41B, 3309C; in very dry and warm regions, P1103.

Irrigation: Recommended.

Incidence of coulure/millerandage: Medium.

Spoilage of mature berries: Should be harvested as soon as it is ripe (13% vol. alcohol).

Risk of bird damage: High.

Machine harvest suitability: Recommend only at low temperatures.


Wine type: Quality wine, dessert wine.

Potential alcohol content: 12 - 14% Vol .

Natural acidity of must: Low (Total acid 4 g/l).

Total phenols index (at 280 nm) of must: 15.1.

Risk of oxidation of must: Medium.

Colour intensity of wine: Very weak (1.86).

Wine colour tonality: Very weak (1.86).

Risk of oxidation of wine: High.

Ageing Potential: Good. When used in Port wine, this variety contributed the brownish colouration of Tawny port.

Blending recommendation: Port wine varieties.

Wine Descriptors: This variety has a characteristic aroma. When young, it is reminiscent of wild berries and fruits, but develops to achieve complex aromas with smoky notes, coffee, dried herbs, prunes, and tobacco. With ageing, the aromas become simulaneously more diverse and deeper. After 10 years, even wines not aged in wood acquire a woody tone

Wine quality: An important ingredient in several important wines.


Variety Characteristics: Very early ripening variety with a high alcohol content, but very susceptible to rot and drying out after veraison.