Zalema (ES)
Variety: white | Category III | Spain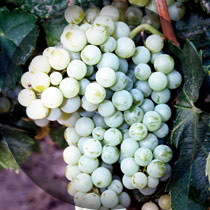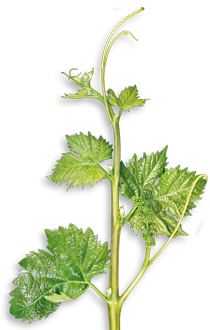 General Information
Zalema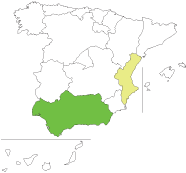 Origin: This variety comes from Western Andalusia, where it is mainly planted in the Huelvas region.

Chief areas of distribution: Andalusia.

Official synonym(s) (national and OIV): None.

Historic and regional synonyms: Ignobilis, Rebazo, Salemo, Salerno, Zalemo, Zalemo Rebazo, Perruna, and Torrontés de Montilla.

Homonym(s): None.

Area under cultivation: 5,000 ha (Ministry of Agriculture, 2007).

Trend: Constant, regional cultivar.

Varietal variability: Medium.

Availability of propagating material: Recognised clones from Andalusia (Rancho de Merced).


VVMD5
VVMD7
VVMD27
VrZag62
VrZag79
VVS2
Allele1
Allele2
Allele1
Allele2
Allele1
Allele2
Allele1
Allele2
Allele1
Allele2
Allele1
Allele2
232
236
237
237
177
177
187
195
245
255
130
142
Recommended in Portugal: Exclusively a regional variety.

Authorized: Andalusia.

DOC quality wine: DO Condado de Huelva and Montilla-Moriles.


Young shoot (form of tip): Open shoot tip with low anthocyanin colouration and erect hairs of medium density.

Young leaf: Medium to high anthocyanin colouration in the first six leaves, prostrate hairs of low density.

Young shoot: Green dorsal internodes, green stripes on ventral side. Both sides of nodes usually sparsely covered with prostrate hairs.

Inflorescence (sex of flower): Hermaphrodite.

Mature leaf: Blade of medium size, pentagonal with slightly overlapping lyre-shaped petiolar sinus. Five to seven overlapping lobes of medium notching. Anthocyanin colouration of main veins absent. No, or very sparse, hairs between veins, sparse hairs on main veins. Short hairs or no hair on petiole. Right-angled convex teeth of medium length and medium length-width ratio.

Bunch: Medium to large, very dense, short peduncle.

Berry: Medium size, uniform, oblate, green yellowish, very difficult to detach. Skin of medium thickness, colourless soft flesh.

Woody shoot: Yellowish brown, striped.


Time of bud burst: Medium.

Flowering: Normal.

Berry (colour change): Normal.

Berry (harvest ripe): Late.


Vigour of shoot growth: High.

Pruning weight:: Above average.

Shoot attitude (habit): Plagiotropic, strong.

Length of internodes: Medium.

Shoot length: Long.

Tendency to form lateral shoots: High.

Rate of multiple bud bursts: Can occur under certain conditions.

Bud fertility index: High.

Yield consistency: Good to high level of consistency.

Crop uniformity: Medium to high degree of uniformity.

Sensitivity to abiotic factors: None observed.

Susceptibility to fungal diseases: Some susceptibility to Botrytis.

Susceptibility to Pests: Low in general.

Bunch weight: Very large bunches

Seeds per berry: 3-4.


Vineyard conduction system: Vase or cordon.

Pruning: Even with short cane pruning, this variety achieves good yields.

Green pruning: Recommended to maintain the balance between fruit and foliage, in order to improve quality.

Soil requirement: Suited to poor soils.

Climatic requirements: Prefers locations with a high heliothermic value, and is therefore drought resistant.

Vine density: 2,500 – 3,000 vines/ha.

Rootstock: No known incompatibility.

Incidence of coulure/millerandage: None.

Spoilage of mature berries: Problems after rain.

Risk of bird damage: No particular risk.

Machine harvest suitability: Some problems experienced.

Hand harvest suitability: Well suited.


Wine type: Light cold fermented white wine. Suitable as a dessert wine. If is does not achieve a quality comparable to that of the Palomino, then it is most often used as a blending wine, or base wine. It has recently been marketed with some success as a low-alcohol, fresh young wine.

Potential alcohol content: Medium sugar concentrations. Alcohol content 10% – 12% vol., depending on yield.

Natural acidity of must: Medium, 4.5 – 6 g/l.

Total anthocyanins: None or low.

Risk of oxidation of must: Ageing problems are experienced because of this variety's strong tendency toward oxidation.

Tendency towards acidity loss in fermentation: Medium.

Colour intensity of wine: Low.

Wine colour tonality: Pale yellow.

Tannins: Few.

Total polyphenol index (at 280 nm): 5.

Risk of oxidation of wine: Very high.

Aromatic profile: No particularly strong aromas.

Ageing Potential: Depends on wine type. Table wines are short-lived.

Blending recommendation: With Pedro Ximénez, to give it added freshness.

Wine Descriptors: Low-alcohol, pale yellow wines. They have hardly any aroma, and medium acid. Fleeting in the mouth, with a slightly bitter tone.

Wine quality: Suitable as a speciality wine.