Airén (ES)
Variety: white | Category II | Spain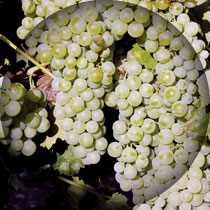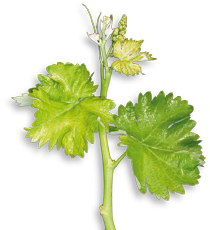 General Information
Airén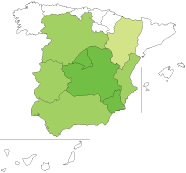 Origin: This variety was first documented by Alonso de Herrera (1513) as the Lairén of Cordoba. In 1807 Clemente described two types of Layrén, the first of which he classified as Layrén, with the synonym Mantúo Layrén La Mancha. He knew of the existence of the variety in Valdepeñas and Manzanares too, where it was used as the base wine for aguardente (firewater). Clemente wrote that raisins were also made from the grapes. In the last century, in terms of quantity, it has been the variety most often planted in the world (423,100 ha, according to Jancis Robinson, 1996).

Chief areas of distribution: This variety is largely confined to the Castilla La Mancha viticultural region.

Historic and regional synonyms: The historical Datilera, Lairén, Lairén, and Manchega.

Homonym(s): No known correct references. The synonym Lairén more often than not refers to the Beba variety in Montilla Moriles.

Area under cultivation: 238,000 ha (Ministry of Agriculture, 2007)

New plantings: Low

Trend: Sharp downward.

Varietal variability: Below the average of all varieties.

Availability of propagating material: Certified clones are available.



VVMD5
VVMD7
VVMD27
VVS2
ZAG62
ZAG79
Allele1
Allele2
Allele1
Allele2
Allele1
Allele2
Allele1
Allele2
Allele1
Allele2
Allele1
Allele2
222
230
241
251
177
191
140
142
187
199
245
257
Recommended in Portugal: Castilla La Mancha (Sub-regions: San Martin de Valdeiglesias, Navalcarnero and Arganda), Murcia.

Authorized: Andalusia, Madrid, Valencia.

DOC quality wine: Alicante, Bullas, Jumilla, La Mancha, Valdepeñas, Vinos de Madrid and Yecla.


Young shoot (form of tip): Hairs of medium density, insignificant colouration.

Young leaf: Very weak anthocyanin colouration of first six leaves, with very dense prostrate hairs between the veins.

Young shoot: Glabrous, green on dorsal and ventral sides, with violet stripes at the internodes.

Inflorescence (sex of flower): Hermaphrodite

Mature leaf: Medium to large pentagonal blade, U-shaped half-open petiolar sinus. Main veins not very pronounced, profile revolute, overlapping upper leaf sinuses, hairs absent on veins, medium density prostrate hairs between veins, very sparse erect hairs on veins. Petiole slightly shorter than main vein, sparse hairs on petiole. Rectilinear teeth of medium size.

Bunch: Large, of medium density, short peduncle.

Berry: Medium to large, round, uniform yellow green, difficult to detach, thick skin. Flesh colourless, of medium firmness, very juicy.

Woody shoot: Brown striped.


Time of bud burst: Very late.

Flowering: Normal to late.

Berry (colour change): Late

Berry (harvest ripe): Very late.


Vigour of shoot growth: Medium.

Pruning weight:: Medium

Shoot attitude (habit): Plagiotropic.

Length of internodes: Medium.

Shoot length: Medium.

Tendency to form lateral shoots: Very high.

Rate of multiple bud bursts: High.

Bud fertility index: Very high.

Yield consistency: Very consistent.

Crop uniformity: Uniform.

Sensitivity to abiotic factors: Not yet determined.

Susceptibility to fungal diseases: Very high resistance to all fungal diseases.

Susceptibility to Pests: High resistance to pests.

Bunch weight: Very high.

Seeds per berry: 2.


Vineyard conduction system: Traditionally, Goblet.

Pruning: Short canes. Even extremely severe pruning results in good yields; even blind buds are fertile.

Green pruning: Recommended to preserve balance in the vine.

Soil requirement: Very high drought resistance; also tolerant of low fertility soils.

Climatic requirements: Drought resistant, therefore suited to hot, dry climate.

Vine density: 1,000 – 1,500 vines/ha

Rootstock: No known incompatibility.

Incidence of coulure/millerandage: Low.

Spoilage of mature berries: Very minimal, matures well, strong berry skin.

Risk of bird damage: Low.

Machine harvest suitability: Suitable.

Hand harvest suitability: Suitable.


Wine type: White wine, rosé wine, sparkling base wine.

Potential alcohol content: Medium.

Natural acidity of must: High.

Risk of oxidation of must: Medium.

Colour intensity of wine: Very low.

Wine colour tonality: Pale yellow.

Tannins: Very few to none.

Total polyphenol index (at 280 nm): 6.9.

Risk of oxidation of wine: High.

Aromatic profile: Low terpenol content, light fruity notes.

Ageing Potential: Low.

Blending recommendation: Traditionally, this variety was blended with the red Tempranillo as a brighly coloured table wine. Used with small quantities of the red grapes it is blended with the low acid clarets of Valdilecha. A significant quantity of this variety's must is processed to produce sparkling base wine, whilst some is exported for use in fruit juice blends.

Wine Descriptors: Heavy wine, low aroma, hints of banana and apple, with low body and low acidity.

Wine quality: Medium.


Variety Characteristics: unavailable