Macabeo (Viura) (ES)
Variety: white | Category II | Spain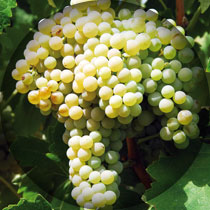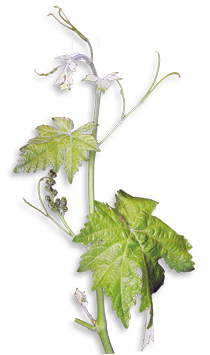 General Information
Macabeo (Viura)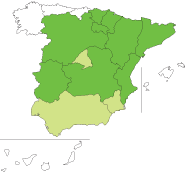 Origin: It is throught that this variety originated in the Ebro Valley catchment area, and after the Phylloxera outbreak, was introduced to Rioja. Today, it is the most frequently planted white grapevine variety in North-East Spain.

Chief areas of distribution: Catalonia (Penedes and Conca de Barberà), followed by Rioja and Aragon, with expansion towards Extremadura, Castile and Leon. The variety is also found in neighbouring Roussillon-Languedoc in France.

Official synonym(s) (national and OIV): Viura.

Historic and regional synonyms: Blanca de Daroca, Charas Blanc, Gredelín, Lardot, Macabeo, Perpignan, Cola de Renard, and Rossan.

New plantings: 34,000 ha (Ministry of Agriculture, 2007)

Trend: Slightly upward, but stabilising.

Varietal variability: Medium.

Availability of propagating material: Recognised clones of this variety are available, e.g. Dy 630.


VVMD5
VVMD7
VVMD27
VrZag62
VrZag79
VVS2
Allele1
Allele2
Allele1
Allele2
Allele1
Allele2
Allele1
Allele2
Allele1
Allele2
Allele1
Allele2
230
232
237
237
185
191
187
187
241
255
130
142
Recommended in Portugal: In Aragon, Castilla la Mancha, Castile and Leon, Extremadura, Catalonia, Murcia, Navarre, the Basque Country, Rioja, Valencia.

Authorized: In Andalusia, Madrid, The Balearic Islands, Galicia, and Navarre.

DOC quality wine: DO Alella, Alicante, Arlanza, Binissalem, Bullas, Calatayud, Campo de Borja, Cariñena,
Cataluña, Cava, Cigales, Conca de Barberá, Costers del Segre, Empordá, Jumilla, La Mancha, Manchuela, Méntrida, Mondéjar, Montsant, Navarra, Penedés, Pla de Bages, Pla i Llevant, Ribeiro, Ribera del Guadiana,
Rueda, Sierra de Málaga, Somontano, Tarragona, Terra Alta, Uclés, Utiel-Requena, Valdepeñas, Valencia, Vinos de Madrid and Yecla; DOCa: Priorato and Rioja.


Young shoot (form of tip): Very open, very high density erect hairs, no, or low, anthocyanin colouration.

Young leaf: Very dense fluffy hairs, dense hairs between main veins. Almost no anthocyanin colouration on main veins.

Young shoot: Internodes green with red stripes on dorsal and ventral sides. Fluffy hairs of medium density on nodes on dorsal and ventral sides.

Inflorescence (sex of flower): Hermaphrodite.

Mature leaf: Medium size, pentagonal, five very elongated lobes. Open, brace-shaped petiolar sinus. Slight blistering on upper side of blade, low anthocyanin colouration on main veins, fluffy hair between veins, almost no hairs on main veins, fluffy hair of medium density on petiole. Petiole shorter than the main vein. Rectilinear convex teeth, with the medium to high length-width ratio.

Bunch: Large, dense. Short peduncle.

Berry: Medium size, round, homogenous, thick yellowish green skin. Peduncle difficult to detach. Flesh colourless, soft and very juicy.

Woody shoot: Well-formed, yellowish brown and dark brown, striate.


Time of bud burst: Late.

Flowering: Normal to late.

Berry (colour change): Normal.

Berry (harvest ripe): Normal to late.


Vigour of shoot growth: High.

Pruning weight:: High.

Shoot attitude (habit): Heliotropic, risk of breakage in wind.

Length of internodes: Medium to long.

Shoot length: Long.

Tendency to form lateral shoots: Low.

Rate of multiple bud bursts: Zero.

Bud fertility index: High.

Yield: Very high if not controlled.

Yield consistency: Consistent.

Crop uniformity: Uniform.

Winkler Index: 4, on a scale of 1 to 5.

Sensitivity to abiotic factors: Very sensitive to wind.

Susceptibility to fungal diseases: Very susceptible to Botrytis, Oidium, and bacterial necrosis.

Susceptibility to Pests: Spider mites.

Bunch weight: High.

Berry size: Medium.

Seeds per berry: 3-4.


Vineyard conduction system: Vase or cordon training system.

Pruning: Severe short pruning.

Green pruning: Not essential.

Soil requirement: Prefers light, calcareous soils, and slope. Problems occur in cool, wet soils, as well as particularly dry soils which may provoke early maturity and early shedding of leaves.

Climatic requirements: Warm temperatures, not too humid conditions.

Vine density: 2,500 – 3,000 vines/ha.

Rootstock: Risk of rot with SO4 and 41 B.

Incidence of coulure/millerandage: None.

Spoilage of mature berries: Risk of rot in very moist soils.

Risk of bird damage: Low.

Machine harvest suitability: Well suited.

Hand harvest suitability: Very well suited.



Wine type: White wine, Cava.

Potential alcohol content: Low (10% - 11% vol.).

Natural acidity of must: Medium, but low if grapes harvested when very mature.

Total anthocyanins: None, or very low.

Risk of oxidation of must: Low.

Tendency towards acidity loss in fermentation: None.

Colour intensity of wine: Low, pale yellow, straw-coloured.

Tannins: Low with young wines.

Total polyphenol index (at 280 nm): 5.3

Risk of oxidation of wine: Low. Wine very stable.

Aromatic profile: Low to medium strength.

Ageing Potential: Poor, although improves in cooler regions.

Blending recommendation: Xarello and Parellada to produce Cava, and Chardonnay and Garnacha Blanca to produce still wines.

Wine Descriptors: The pale yelow wine with green reflexes opens with sharp aromas. In the mouth, it is light and fresh with notes of wild flowers and bitter almonds. It has a slightly floral finish.

Wine quality: A pleasant young wine most suited to blending to make Cava wines in particular.


Variety Characteristics: unavailable