Touriga-Franca (PT)
Variety: red | Category II | Portugal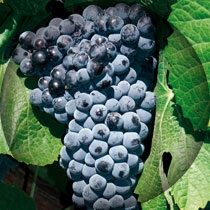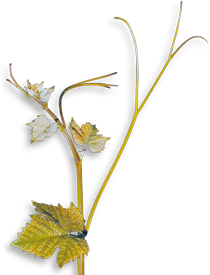 General Information
Touriga-Franca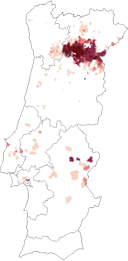 Origin: With its origin in Northern Portugal, it is possible that this is not a very old variety, and according to Truel (1984) is not related to any French variety. This variety is closely related to the Touriga Nacional. N. de Almeida (1992) suggests that the variety could be the same as the historical variety called Tinta da França or Tinta Francesa. The name Touriga Francesa comes from the 1940s. Its current name corresponds to that given in the official Portuguese grapevine variety list, as contained in Portaria Nº 428 of 2000.

Chief areas of distribution: Douro. It is the most widespread variety in the region (18.6%).

Official synonym(s) (national and OIV): None.

Historic and regional synonyms: In 2000 the Touriga Francesa was renamed the Touriga Franca, because this variety has no connection whatsoever with France. Lacerda Lobo (1790) and Rebello da Fonseca (1791) mentioned only the Touriga or Tourigo. Teixeira Gyrão (1822 ) mentioned "three types of Touriga": the Touriga Fina, Tourigão and Touriga Foufeira, but was unaware of the name used today. Vila Maior (1865) mentioned that there were various varieties of the same name on the Quinta do Vesúvio estate. Cincinatto da Costa (1900) noted three different cultivars. In the ampelographies published in the bulletins of the Ministry of Agriculture in 1986 and 1900, J. T. Carvalho Pinto de Menezes mentioned 10 different Tourigas. João Marques de Carvalho mentioned this variety in 1912. In the Revista Agronómica in 1941, J. de Carvalho e Vasconcellos verified the properties of the Touriga Francesa and confirmed it as an independent variety. Nuno Magalhães points to its low intravarietal genetic variability as one indication of its short history.

Homonym(s): Not yet determined.

Area under cultivation: 13,200 ha.

New plantings: 5.8%.

Trend: Stable, primarily because of the expansion to its new area of cultivation to the South of the country.

Varietal variability: Medium to low.

Availability of propagating material: RNSV polyclonal material; certified clone 24 JBP.


VVMD5
VVMD7
VVMD27
VrZag62
VrZag79
VVS2
Allele1
Allele2
Allele1
Allele2
Allele1
Allele2
Allele1
Allele2
Allele1
Allele2
Allele1
Allele2
226
228
235
239
181
183
192
194
245
247
145
153
DOC quality wine: Porto, Douro, Távora-Varosa, Bairrada, Óbidos, Alenquer, Arruda, Torres Vedras, Ribatejo, Lagoa.

IPR quality wine: Valpaços, Planalto Mirandês,

Regional wine: Trás-os-Montes, Beiras, Estremadura, Ribatejano, Terras do Sado, Alentejano, Algarve.


Young shoot (form of tip): Open, with medium anthocyanin colouration and sparse hairs.

Young leaf: Copper, with medium to strong starker anthocyanin colouration. Hairs of medium density.

Young shoot: Red stripes on the dorsal side of nodes and internodes. Low anthocyanin colouration in buds. Short tendrils.

Inflorescence (sex of flower): Hermaphrodite.

Mature leaf: Medium to large, pentagonal, normally three lobes; deep green, rounded shape, medium blistering of upper side of blade, generally undulate. Short, convex teeth. Closed V-shaped, sometimes slightly overlapping, petiolar sinus closed. Open V-shaped upper lateral sinuses. Medium density prostrate hairs on lower side of blade.

Bunch: Medium and dense. Short peduncle, good lignification.

Berry: Medium, round oblate, blue-black. Skin furry, of medium firmness. Flesh colourless, firm, very juicy. Short pedicel.


Time of bud burst: 1 day after the Castelão.

Flowering: Early, 1 day after the Castelão.

Berry (colour change): Early, 11 days before the Castelão.

Berry (harvest ripe): Normal, 1 week after the Castelão.


Vigour of shoot growth: Medium to high.

Pruning weight:: 2,000 – 3,000 kg/ha.

Shoot attitude (habit): Upright, Heliotropic. Some terminal shoots may develop a strong lateral habit and become very long.

Length of internodes: Medium.

Shoot length: Uniformly medium to large.

Tendency to form lateral shoots: Medium.

Rate of multiple bud bursts: Short and thin.

Bud fertility index: Low, between 1.5 and 1.7 flowers per shoot .

Yield: High (8,000 – 16,000 kg/ha). RNSV statistical value: 2.6 kg/vine (Average of at least 40 clones in Vila Flor over 4 years).

Yield consistency: Consistent.

Crop uniformity: Uniform.

Winkler Index: 1,496 for an 11 t/ha yield (Montemor). Because of its long growing season, desired maturity is achieved even in warm areas. Bad weather conditions in September even in warm areas can compromise yield.

Sensitivity to abiotic factors: Robust variety.

Susceptibility to fungal diseases: Somewhat susceptible to Oidium and sour rot, particularly when it has suffered from grapevine moth.

Systemic viral infection prior to selection: 80% GLRaV-3, 10% GVA, <50% RSPV.

Susceptibility to Pests: Susceptible to grapevine moth; less susceptible to the vine leafhopper.

Bunch size: Medium to large (200 - 300 g)

Bunch density: Medium to dense, depending on availability of water.

Berry skin: Of medium thickness, sometimes thicker.


Vineyard conduction system: Suited to all training systems, even those with short canes, because it is a very high yield variety. Because of its erect shoot growth, this variety is easy to train; pruning of shoots and tips and thinning of foliage is recommended.

Soil requirement: deep, fertile and humid soils are to be avoided, in order to achieve sufficently high alcohol content. Preferably South-facing, at an altitude of about 300 m (Douro).

Climatic requirements: Preferably on sunny slopes at medium altitude; leaves and berries tolerant of very high temperatures, and berry matures well at extreme temperatures. Heavy rainfall just prior to veraison, however, causes serious problems.

Vine density: Because of its heliotropic shoot attitude, suited to all types of vine spacing, even if very dense.

Rootstock: Compatible with almost all rootstock, if rootstock is compatible with the soil requirements of this variety.

Irrigation: Responds well to irrigation, but excessive irrigation may lead to insufficient ripening.

Incidence of coulure/millerandage: Extremely low susceptibility.

Spoilage of mature berries: Relatively high risk of spoilage from both rain and drought.

Risk of bird damage: Because of its very late harvest, this variety is least favoured by birds.

Machine harvest suitability: Harvest at low temperatures is recommended in order to prevent oxidation of must.


Wine type: Quality wine, dessert wine, rosé wine.

Potential alcohol content: Medium (12 - 14% vol.); Low in humid zones. (RNSV statistical value: 11.35% vol. (Average of at least 40 clones in Tabuaço over 5 years).

Natural acidity of must: Medium (3.5 – 4.5 g/l tartaric acid). RNSV statistical value: 3.94 g/l (Average of at least 40 clones in Tabuaço over 5 years).

Total anthocyanins: RNSV statistical value: 726.67 mg/l (Average of at least 40 clones in Tabuaço over 5 years).

Total phenols index (at 280 nm) of must: 78.8. RNSV statistical value: 31.33 (Average of at least 40 clones in Tabuaço over 5 years).

Risk of oxidation of must: High.

Colour intensity of wine: 5.8 – 8.15.

Wine colour tonality: 0.66 – 0.73. Light reddish, somewhat brownish.

Tannins: Not analysed.

Total polyphenol index (at 280 nm): 22 - 25.

Risk of oxidation of wine: Tendency towards slight oxidation of wine, therefore necessitating the use of anti-oxidants (N. Almeida). Other authors (Centro de Estudos da Régua) mention a slightly lower risk.

Aromatic profile: (As analysed in the Douro in 2003.) Total concentration of free terpenoids (responsible for floral aromas) is 248 μg/l.

Ageing Potential: Generally good, particularly well suited to barrel ageing.

Blending recommendation: With other quality varieties of the Douro.

Wine Descriptors: Overall, a very intense aroma, with a most conspicuous floral note of roses, accompanied in good years by a hint of citrus fruitiness. The wine achieves a good balance between tannins and fruit, without, however, being exceptional. Residual fruitiness in the mouth on finish. In the mouth, it is a full bodied, well structured wine, but lacks a certain elegance (N. Almeida, Douro).

Wine quality: Although this is one of the best varieties in the Douro, it should be noted that yields in excess of 10,000 l/ha, or unfavourable locations, can lead to a sharp drop in quality.


Variety Characteristics: This variety is easily recognised by its undulate dark green leaves, which are blistered like those of the Touriga National. A high yield variety with good colour, particularly suitable for blending.