Albillo Mayor (ES)
Variety: white | Category II | Spain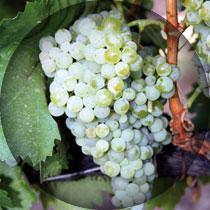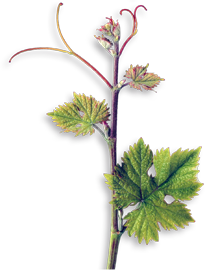 General Information
Albillo Mayor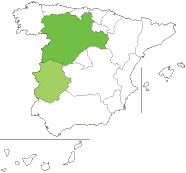 Origin: This variety has been known for many centuries and was often blended in old wineries with other grapevine varieties. Based on the high degree of homonymity, it is difficult to pinpoint precise historic references in the literature. It is more than probable that the variety originated in the Northern Douro on the elevated plains of Castile (Burgos and Valladolid).

Chief areas of distribution: Castile and Leon.

Official synonym(s) (national and OIV): Turruntés.

Historic and regional synonyms: Abillo, Túrruntez, Blanca del País.

Homonym(s): In 1807 Clemente mentioned the large numbers of homonyms. Nowadays, distinction is made between six different varieties of homonymous appelation: the Albillo of Asturia is the Chaselas Doree; the Albillo Real of Madrid is the same in Cebreros, Toro, Zaragoza and Toledo. The Albillo of Albacete is cultivated in Manchuela. The Albillo of Granada is found in Alpujarra Granadina, Cáceres, and Badajoz. Both the Albillo Criollo and the Albillo Monte Lentiscal come from the Canary Islands.

Area under cultivation: 2,336 ha (Ministry of Agriculture, 2007)

Trend: Stable, slightly upward.

Varietal variability: Medium.

Availability of propagating material: Certified clone material is available.



VVMD5
VVMD7
VVMD27
VVS2
ZAG62
ZAG79
Allele1
Allele2
Allele1
Allele2
Allele1
Allele2
Allele1
Allele2
Allele1
Allele2
Allele1
Allele2
228
232
237
251
179
191
140
142
185
199
249
255
Recommended in Portugal: Asturias, Castilla La Mancha, Castile and Leon, Madrid. The variety is only permitted in Castile and Leon under the appellation Albillo Mayor; homonyms are used in other regions.

Authorized: Navarre, Basque Country, Rioja.

DOC quality wine: DO Arlanza, Arribes, Cigales, Ribera del Duero, and Tierra del Vino de Zamora. DOCa Rioja.


Young shoot (form of tip): Very opened, medium to dense erect hairs, medium anthocynanin colouration.

Young leaf: Medium anthocyanin colouration of first six leaves, prostrate hairs of medium density.

Young shoot: Internode green with reddish stripes on dorsal and ventral sides. Nodes reddish on dorsal and ventral sides. No fluffy hairs.

Inflorescence (sex of flower): Hermaphrodite.

Mature leaf: Medium to large pentagonal blade, seven lobes, slightly open U-shaped petiolar sinus. Low density of veins, undulate blade, overlapping upper lateral sinuses, red at the base of the petiole, medium fluffy hair between veins, no erect hairs on veins. No, or very sparse, hairs on petiole, large rectilinear teeth with high length-width ratio.

Bunch: Small to medium-large, tight, with short peduncle.

Berry: Small circular, green-yellow. Difficult to detach from pedicel, thin skin. Flesh is soft, colourless, and very juicy.

Woody shoot: Brown, striped.Medium to early; some time before the Tempranillo.


Time of bud burst: Medium to early; some time before the Tempranillo.

Flowering: Medium.

Berry (colour change): Medium.

Berry (harvest ripe): Early.


Vigour of shoot growth: Medium to high.

Pruning weight:: Medium.

Shoot attitude (habit): Heliotropic and therefore easy to cultivate.

Length of internodes: Medium to short.

Shoot length: Medium.

Tendency to form lateral shoots: Low to medium.

Rate of multiple bud bursts: Zero.

Bud fertility index: Medium.

Yield: Relatively consistent.

Crop uniformity: Uniform.

Sensitivity to abiotic factors: Frost.

Susceptibility to fungal diseases: Susceptible to Oidium; it is also particularly susceptible to Botrytis.

Susceptibility to Pests: Grapevine rust mite, redi spider mite, and European Grapevine Moth (Lobesia botrana)

Bunch weight: Medium.

Berry size: Medium.

Seeds per berry: 2-3.


Vineyard conduction system: Traditionally, the Goblet training system, but nowadays the trend is towards high trained systems, primarily the Cordon Royal.

Pruning: Good yields with cane pruning.

Green pruning: Because this variety seldom has multiple bud bursts nor forms many lateral shoots, subsequent care of the vine is minimal.

Soil requirement: This variety has to be closely monitored in fertile or moist soils because of its high susceptibility to fungal diseases.

Climatic requirements: Warm dry climate; does not perform well in cool or cold terroir.

Vine density: Traditionally 3m x 2m spacing; nowadays trend is more towards 3m x 1.5m spacing.

Rootstock: No known incompatibility.

Incidence of coulure/millerandage: Medium.

Spoilage of mature berries: Medium.

Risk of bird damage: Medium to high.

Machine harvest suitability: Well suited.

Hand harvest suitability: Well suited.


Wine type: Young, fruity white wine, or blended as a rosé wine.

Potential alcohol content: Medium sugar content.

Natural acidity of must: Average acid content, with a greater proportion of tartaric acid than malic acid.

Total anthocyanins: None to low

Risk of oxidation of must: Medium.

Tendency towards acidity loss in fermentation: Medium.

Colour intensity of wine: Very low.

Wine colour tonality: Pale yellow.

Tannins: Very low.

Total polyphenol index (at 280 nm): 6.

Risk of oxidation of wine: Medium.

Aromatic profile: Flowery, with fruity notes.

Blending recommendation: With rosé and red wines.

Suitable as a varietal: Suitable as a varietal; ages well.

Wine Descriptors: Light wines high in gylcerol, and yellow-gold in colour, with balanced fruity but also floral aromas; they impress with their slight, elegant acidity, and well-structured body on finish.

Wine quality: Medium to high.


Variety Characteristics: unavailable