Encruzado (PT)
Variety: white | Category II | Portugal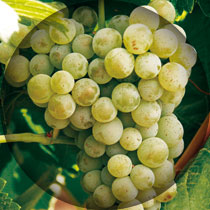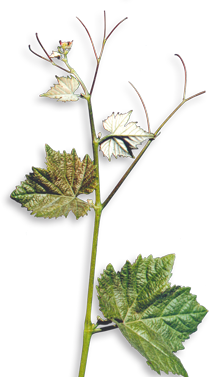 General Information
Encruzado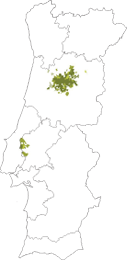 Origin: This variety originated in the Dão. It is not mentioned in the literature of the 19th century. The first technical description appeared in Viseu, in the Dão region (Vasconcelos, 1942).

Chief areas of distribution: Dão.

Official synonym(s) (national and OIV): None.

Historic and regional synonyms: Salgueirinho.

Homonym(s): Not yet determined.

Area under cultivation: 300 ha.

New plantings: Very few (less than 0.1%), considering its oenological profile; possibly due to selected material not being used.

Trend: Insignificant.

Varietal variability: Medium to low.

Availability of propagating material: RNSV polyclonal material. Sanitised, virus-free clone JBP.


VVMD5
VVMD7
VVMD27
VrZag62
VrZag79
VVS2
Allele1
Allele2
Allele1
Allele2
Allele1
Allele2
Allele1
Allele2
Allele1
Allele2
Allele1
Allele2
226
232
235
253
183
189
194
194
247
251
151
153
DOC quality wine: Dão.

Regional wine: Beiras, Terras do Sado, Alentejano.


Young shoot (form of tip): Open with crimson end, hairs of medium density.

Young leaf: Yellow with bronze spots, hairs of medium density on ventral side.

Young shoot: Green with green buds. Tendrils at internodes above middle third of shoot.

Inflorescence (sex of flower): Hermaphrodite.

Mature leaf: Small, pentagonal, five lobes; medium green blade, irregular, medium blistering of upper side of blade, rugose; sparse hairs on lower side of blade; short convex teeth. Slightly open V-shaped petiolar sinus. Open V-shaped upper lateral sinuses.

Bunch: Small, cylindrical, medium density, peduncle of medium length.

Berry: Slightly oblate, medium size, yellow green, berry skin of medium thickness, soft flesh.


Time of bud burst: Normal, 6 days after the Fernão Pires.

Flowering: Normal, 2 days after the Fernão Pires.

Berry (colour change): Normal, 9 days after the Fernão Pires.

Berry (harvest ripe): Early, at the same time as the Fernão Pires.


Vigour of shoot growth: High.

Pruning weight:: 1,800 – 2,500 kg/ha.

Shoot attitude (habit): Plagiotropic (drooping).

Length of internodes: Medium to long, regular, normally produces tendrils from the 7th node onwards.

Shoot length: Some very long.

Tendency to form lateral shoots: High.

Rate of multiple bud bursts: Low.

Bud fertility index: Medium to high.

Yield: Medium (5,000 – 10,000 l/ha). (RNSV statistical value: 1.72 kg/vine (Average of at least 40 clones in Nelas over 2 years).

Yield consistency: Consistent.

Crop uniformity: Uniform.

Sensitivity to abiotic factors: Quite resistant to drought. Shoots break easily in the wind.

Susceptibility to fungal diseases: Medium susceptibility to Peronospora, Oidium and Botrytis.

Systemic viral infection prior to selection: 30% GLRaV-2 and -3, 10% GVA, <50% RSPV.

Susceptibility to Pests: Susceptible to the green leaf roller, the grape berry moth, and Erinosis.

Bunch size: Medium to small.

Bunch density: Dense.

Berry skin: Medium thickness.

Seeds per berry: Medium.


Vineyard conduction system: Vine difficult to train, but suited to all types of pruning.

Soil requirement: Deep, dry, granite-based soils.

Climatic requirements: Does not respond well to wind and high soil humidty.

Vine density: Vines should be spaced at least 1 m apart.

Rootstock: Very compatible with R99, R110, P1103.

Irrigation: Suitable.

Incidence of coulure/millerandage: Medium sensitivity.

Spoilage of mature berries: Not significant.

Risk of bird damage: Very low.

Machine harvest suitability: Good.


Wine type: Quality wine.

Potential alcohol content: High.

Natural acidity of must: Medium.

Risk of oxidation of must: High.

Colour intensity of wine: Lemon yellow.

Risk of oxidation of wine: Susceptible to oxidation, resulting in loss of aroma.

Aromatic profile: Good levels of terpenoids: 17.8 μg/l linalool; and 3.5 μg/l nerol.

Ageing Potential: High (decades).

Blending recommendation: With varieties cultivated in the same region.

Wine Descriptors: This wine surprises with the elegance and complexity of its aroma, identified by some planty notes and pepper tones combined with floral notes such as rose and violet. They are mixed with mineral notes of flint, or fruity notes of lemon. With ageing the taste and aroma take on hints of hazelnut, pinenut and resin (V. Loureiro).

Wine quality: Better quality wine.


Variety Characteristics: Differ from other varieties in that they have an unusual feature: the internodes are capable of forming tendrils. Very sensitive to shortcomings in vinification. Under ideal conditions, this variety is capable of producing one of the best wines in the country.