Mazuela (Cariñena) (ES)
Variety: red | Category II | Spain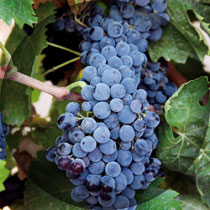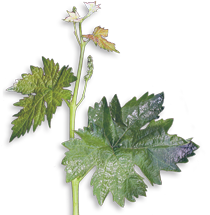 General Information
Mazuela (Cariñena)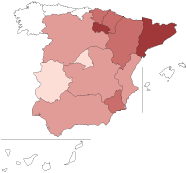 Origin: Having originated in the Cariñena region in Aragon (Galet, 1958:695), this Spanish variety now has a worldwide presence. In the rich alluvial soils of the Ebro valley this variety produces very high quantities of low quality. It has had its own DO Cariñena region since 1932, which was legislated a second time in 1975. The region ranks as one of the dryest continental climates in Spain. The variety is also noted for the Priorato wines. Because the variety is also widely cultivated in France, West of the Pyrenees as far as Aude, the variety being described here is the Spanish variety, which only flourishes to full maturity in very sunny conditions South of N 40º latitude. It is one of the most cultivated varieties in the world, with 220,000 ha under cultivation, of which some 200,000 ha are found in France alone, with the balance being cultivated in Algeria, Tunisia, Morocco, Califonia, Chile, Argentina, and Mexico.

Chief areas of distribution: Southern France.

Official synonym(s) (national and OIV): Cariñena, Carignan (F).

Historic and regional synonyms: Cariñena, Samso, Carignan (F), Bois dure, Carignano, Crusilló, Crujillón or Crucillón, Girarde, Mazuelo, Moracain, Samsó, and Sanso in Spain, as well as Bois dur, Catalan, Rousillonen, Monestel, and Mataro in France.

Homonym(s): None known.

Area under cultivation: 6,000 ha (Ministry of Agriculture, 2007).

Trend: Slightly downward.

Varietal variability: Medium to high.

Availability of propagating material: Certified Spanish and French material is available.


VVMD5
VVMD7
VVMD27
VrZag62
VrZag79
VVS2
Allele1
Allele2
Allele1
Allele2
Allele1
Allele2
Allele1
Allele2
Allele1
Allele2
Allele1
Allele2
222
224
237
237
177
181
185
187
249
257
140
142
Recommended in Portugal: In Aragon, Catalonia, the Basque Country, Rioja.

Authorized: Castilla la Mancha, Navarre, Extremadura.

DOC quality wine: Alella, Calatayud, Campo de Borja, Cariñena, Catalonia, Conca de Barberá, Costers del Segre, Empordà, Manchuela, Montsant, Navarra, Penedès, Ribera del Guadiana, Tarragona, Terra Alta and Valencia. (DOCa): Priorato and Rioja. (Pago vitícola): Prado de Irache.



Young shoot (form of tip): Open with medium density prostrate hairs, no colouration.

Young leaf: First six leaves have no anthocyanin colouration, medium density prostrate hairs in inter-vein area of the leaf, and sparser on the venation.

Young shoot: Red stripes on ventral side, dorsal side green

Inflorescence (sex of flower): Hermaphrodite.

Mature leaf: Very large, pentagonal, with U-shaped petiolar sinus. Low prominence of main vein. Blade is flat and involute. Slightly overlapping upper lateral sinuses of medium size. Veins almost colourless, with sparse prostrate hairs between veins, and no hairs on the veins. Sparse erect hairs on vein of lower side of blade. Very short peduncle with low density of prostrate hairs. Medium length convex teeth, medium length-width ratio.

Bunch: large, dense, short peduncle (200 -500 g).

Berry: Large (12 – 15 mm), elliptic, regular, difficult to detach. Berry skin of medium thickness. Flesh colourless, of medium firmness, and slightly juicy.

Woody shoot: Dark brown, glabrous.


Time of bud burst: Medium to late, after the Tempranillo.

Flowering: Medium to late.

Berry (colour change): Normal to late: 4 – 10 days after the Tempranillo.

Berry (harvest ripe): Very late: 12 days after the Tempranillo.


Vigour of shoot growth: Very high.

Pruning weight:: High.

Shoot attitude (habit): Erect (heliotropic).

Length of internodes: Medium.

Shoot length: Medium to long.

Tendency to form lateral shoots: High.

Rate of multiple bud bursts: High.

Bud fertility index: Very high, with high fruit set.

Yield: Very high.

Yield consistency: Very regular.

Crop uniformity: Very uniform.

Winkler Index: 5, on a scale of 1 to 5.

Sensitivity to abiotic factors: No known sensitivity (high resistance to frost and heat.)

Susceptibility to fungal diseases: Extremely susceptible to Oidium, very susceptible to Peronospora and Botrytis, less susceptible to Excoriosis.

Susceptibility to Pests: Susceptible to vine leafhopper.

Bunch weight: Large bunches and medium to large berries ensures a very high yield for this variety.

Berry size: High – medium to large.

Seeds per berry: 3-4.


Vineyard conduction system: Goblet or cordon.

Pruning: Very short pruning.

Green pruning: Recommended.

Soil requirement: All soils, particularly poor soils with slope. High potassium requirement, well suited to less fertile soils. Some maturity problems experiences in loose soils.

Climatic requirements: Very flexible, since variety is drought and frost resistant.

Vine density: 2,000 – 2,500 vines/ha.

Rootstock: No known incompatibility.

Incidence of coulure/millerandage: Not susceptible.

Spoilage of mature berries: Minimal.

Risk of bird damage: Low.

Machine harvest suitability: Suitable.

Hand harvest suitability: Suitable.


Wine type: Quality red wines are produced in dry zones with good soils and low yield. Grapes are suited to carbonic maceration, which produces a pleasant combination of the high acidity of the variety with its typical youthful aromas.

Potential alcohol content: Depends on the size of the harvest, average sugar content.

Natural acidity of must: High, 6% – 7% total acid content.

Total anthocyanins: High.

Risk of oxidation of must: Medium.

Tendency towards acidity loss in fermentation: Medium.

Colour intensity of wine: Has a much higher colour intensity than the Tempranillo.

Wine colour tonality: Very high tonality, and therefore not particularly suitable for achieving a pure red tone.

Tannins: Slightly astringent tannins which may cause a cabbage tone.

Total polyphenol index (at 280 nm): 50.

Aromatic profile: Light aroma of fresh red fruit and wild fruits.

Ageing Potential: Good.

Blending recommendation: As a blending partner, this wine is valued for its high acidity (from low yields). Blending particularly recommended with the Tempranillo and the Grenache.

Wine Descriptors: Has a bouquet of light green fruits, reminiscent of fresh hay, with fresh cherry notes, a light body of simple structure with vegetative notes. Fine finish with slight chocolate notes.

Wine quality: A controversial variety, but with low yields in appropriate terroir, very good quality can be achieved.


Variety Characteristics: unavailable