Malvasía Aromática (ES)
Variety: white | Category II | Spain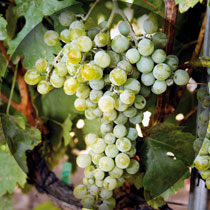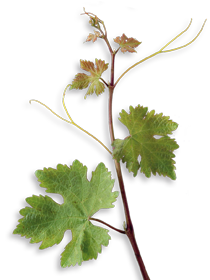 General Information
Malvasía Aromática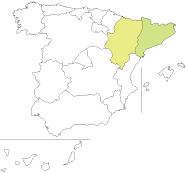 Origin: There is a large number of Malvasia grapevines. In the OIV List (1996) over 50 different varieties have been named. In addition, a distinction is made between two types of wine: one which has the typical intense aromas similar to the Muscatel; and one which does not. There are also considerable differences within this variety in respect of morphological criteria, ranging from the red varieties to the Malvasía Negra. Pliny the Elder mentioned this group of Malvasia. It is believed that in Catalonia references in literature to this variety date back to the 13th century, from which it is assumed that the Greek variety from Candia (the island in Crete) was being spoken of, and which must have originally come from Asia Minor (Vitis vinifera orientalis Negrul). This variety's dessert wine, as Malmsey, is one of the three Greek wines (the other two being Rumney and Cretan wine) to have become a Venetian marketing success in Northern Europe before the Turks occupied Greece and shut down this market on religous grounds, which in turn led to this variety being introduced to the Iberian Peninsula. In Vecina, near Penedès, the Malvasía de Sitges has been able to survive, despite its small bunches and suceptibility to rot.

Chief areas of distribution: Canary Islands (Tenerife), Catalonia (Penedès)

Official synonym(s) (national and OIV): Malvasía de Sitges (former name in Spain); according to the OIV catalogue: Malvasia Grossa, Malvasia del Chianti (possibly an error).

Historic and regional synonyms: Malvasía, Malvasía de Banyalbufar, Malvasía de la Palma. Malvasija Dubrovačka  in Croatia; Malvasia delle Lipari in Italy. Molecular analysis, and international comparison, would be required in order to confirm other synonyms in the Eastern Mediterranean.

Molecular genetic analysis: One allele mutation has occurred in the pink coloured Malvasía Rosado variety (Rodriguez Torres et al 2009:6).

Homonym(s): As above.

Area under cultivation: 400 ha (Ministry of Agriculture, 2007). The conclusion has been reached that 40% of all different official Malvasia names refer to this variety, whilst the rest belongs to the Malvasía Volcánico (previously the Malvasía de Lanzarote). The 30 ha in Catalonia are included here for information purposes only.

Trend: Slightly upward.

Varietal variability: Medium.

Availability of propagating material: Selection material is available in various regions of Spain (the Balearics, Canary Islands, Catalonia).


VVMD5
VVMD7
VVMD27
VrZag62
VrZag79
VVS2
Allele1
Allele2
Allele1
Allele2
Allele1
Allele2
Allele1
Allele2
Allele1
Allele2
Allele1
Allele2
222
222
241
247
175
179
187
201
241
245
140
142
Recommended in Portugal: Canary Islands, Valencia (under other names).

Authorized: ndalusia (under all names), the Balearics, Catalonia, Murcia (under other names).

DOC quality wine: DO Abona, Cataluña, El Hierro, Empordà, La Palma, Penedès, Valle de Güímar, Valle de la Orotava and Ycoden-Daute-Isora.


Young shoot (form of tip): Open, sparse erects hairs, strong anthocyanin colouration.

Young leaf: Very strong anthocyanin colouration. Glabrous, or sparse prostrate hairs.

Young shoot: Green with red stripes, no, or sparse prostrate hairs.

Inflorescence (sex of flower): Hermaphrodite.

Mature leaf: Small blade, pentagonal with seven deeply notched lobes. Open U-shaped petiolar sinus, flat on upper side of blade, no fluffy hair between veins or on veins. No hairs on petiole. Large convex teeth. High length-width ratio.

Bunch: Medium to long, medium firmness, short peduncle.

Berry: Medium to large, even, elliptic with green-yellow, thin skin. Easy to detach. Flesh colourless, soft, and very juicy.

Woody shoot: Brown, striped.


Time of bud burst: Early.

Flowering: Normal.

Berry (colour change): Normal.

Berry (harvest ripe): Early.


Vigour of shoot growth: Low.

Pruning weight:: Low.

Shoot attitude (habit): Semi-erect.

Length of internodes: Short.

Shoot length: Medium length.

Tendency to form lateral shoots: Low.

Rate of multiple bud bursts: None.

Bud fertility index: Low.

Yield: Low.

Yield consistency: Low.

Crop uniformity: Low.

Winkler Index: 5, on a scale of 1 to 5.

Sensitivity to abiotic factors: Sensitive to spring frost, but has good drought resistance.

Susceptibility to fungal diseases: Particularly susceptible to Bunch Rot and Oidium.

Systemic viral infection prior to selection: Very highly infected starting material.

Susceptibility to Pests: Red spider mite.

Bunch weight: Medium to large.

Seeds per berry: 3-4.


Vineyard conduction system: Cordon.

Pruning: On long canes.

Green pruning: Not absolutely necessary.

Soil requirement: Moist, loose soils.

Climatic requirements: Prefers mild to warm climates.

Vine density: 2,000 vines/ha.

Rootstock: Incompatibility not yet determined.

Incidence of coulure/millerandage: Susceptible.

Spoilage of mature berries: Can be at risk.

Risk of bird damage: Normally low.

Machine harvest suitability: Unknown, because it is too difficult on small plots.

Hand harvest suitability: Difficult.


Wine type: White wine, sweet dessert wine.

Potential alcohol content: High (14% vol.).

Natural acidity of must: Above average.

Total anthocyanins: Very low, or none.

Risk of oxidation of must: Medium.

Tendency towards acidity loss in fermentation: None.

Colour intensity of wine: Low.

Wine colour tonality: Yellow-gold

Tannins: Low.

Total polyphenol index (at 280 nm): 8.

Risk of oxidation of wine: Low.

Aromatic profile: Terpenoid, various strong aromatic components.

Ageing Potential: Very good.

Blending recommendation: With less aromatic white varieties.

Wine Descriptors: The wine presents an intense yellow-gold colour, its nose revealing high aromatic potential, which in the mouth combines a slightly retro-nasal grassiness with an extract-rich body, suaveness, and pleasant acidity to deliver a powerful finish.

Wine quality: Very high. The wine distinguishes itself by its corpulence, and by having one of the largest and most complex personalities of Spanish wines.


Variety Characteristics: unavailable