Fernão Pires (PT)
Variety: white | Category II | Portugal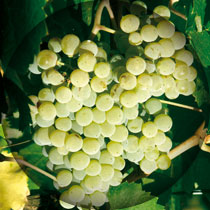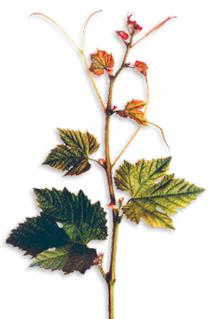 General Information
Fernão Pires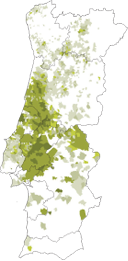 Origin: From Central Portugal. Silva and Teles (1790) noted this variety in the Bairrada, Douro and Estremadura, and Lacerda Lobo (1790) recorded its presence in Guarda. Internationally, it is cultivated in Australia, New Zealand, California and South Africa.

Chief areas of distribution: Ribatejo.

Official synonym(s) (national and OIV): Maria Gomes.

Historic and regional synonyms: Gaeiro (Oeste), Maria Gomes (in one part of the Bairrada), Molinho (Setúbal).

Homonym(s): Fernão Pires rosado (Nº 126).

Area under cultivation: 17,500 ha.

New plantings: 1.2%.

Trend: Upward (more than 2%).

Varietal variability: Medium.

Availability of propagating material: RNSV polyclonal material is available. Certified clones: 1 JBP, 68 - 74 (ENA).


VVMD5
VVMD7
VVMD27
VrZag62
VrZag79
VVS2
Allele1
Allele2
Allele1
Allele2
Allele1
Allele2
Allele1
Allele2
Allele1
Allele2
Allele1
Allele2
226
240
235
235
183
194
188
194
247
247
147
153
DOC quality wine: Douro, Távora, Bairrada, Óbidos, Alenquer, Arruda, Torres Vedras, Ribatejo, Palmela.


IPR quality wine: Alcobaça, Valpaços, Encostas de Aire.

Regional wine: Minho, Trás-os-Montes, all sub-regions of the Beiras, all sub-regions of Estremadura, Ribatejo, Terras do Sado, Alentejano, Algarve, Azores.


Young shoot (form of tip): Open, with medium anthocyanin colouration, medium density of prostrate hairs.

Young leaf: Yellow with bronze spots, very dense hairs on ventral side.

Young shoot: Light red stripes, with green buds.

Inflorescence (sex of flower): Hermaphrodite.

Mature leaf: Medium size, pentagonal, three lobes, dark green blade, irregular, medium blistering of upper side of blade, hairs of medium density on lower side of blade; short convex teeth. Open U-shaped petiolar sinus. Open V-shaped upper lateral sinuses.

Bunch: Medium, conical, short, medium density, short peduncle.

Berry: Round, small, yellow green, skin of medium thickness, soft flesh.


Time of bud burst: Early.

Flowering: Early.

Berry (colour change): Early.

Berry (harvest ripe): Early.


Vigour of shoot growth: Medium to high.

Pruning weight:: 600 – 1,000 g/vine, depending on the clone.

Shoot attitude (habit): Plagiotropic (drooping). There is a clone with erect attitude in the Santarém region by the name of Fernão Pires do Beco (cf. Cincinatto da Costa, 1900).

Length of internodes: Variable.

Shoot length: Some very long.

Tendency to form lateral shoots: Occasional.

Rate of multiple bud bursts: High (39% of all buds) (J. Araújo).

Bud fertility index: High: 1.63 flowers per shoot (J. Araújo).

Yield: Index 456 (Araújo). 8 - 18 t/ha, depending on the clone and the environment. (RNSV statistical value: 1.89 kg/vine (Average of at least 40 clones in Almeirim over 3 years).

Yield consistency: May vary from year to year, particularly after large yields.

Crop uniformity: Uniform.

Winkler Index: 1,420 for a 15 t/ha yield.

Sensitivity to abiotic factors: Very sensitive to drought stress.

Susceptibility to fungal diseases: Susceptible to Oidium, particularly late phase.

Systemic viral infection prior to selection: 70% GLRaV-3, <50% RSPV.

Susceptibility to Pests: Susceptible to the vine leafhopper and grapevine moth.

Bunch size: Medium to large (270 g).

Bunch density: Loose, with wings.

Berry skin: Strong.

Seeds per berry: 2.5.


Vineyard conduction system: Suited to all training systems, but especially to the cordon.

Soil requirement: Deep, well-drained soils, podsol type (Pegões), or alluvial and pleistocene sandy soils (Ribatejo).

Climatic requirements: Highly adaptable variety; moderate to hot climate, providing sufficient moisture available.

Vine density: Vines should be spaced at least 1 m apart.

Rootstock: Compatible with Riparia Berladieri and Rupestris Berladieri.

Irrigation: Requires irrigation if drought stressed, although this may result in wine being less balanced and less aromatic.

Incidence of coulure/millerandage: Low.

Spoilage of mature berries: Variety matures early, and should therefore be harvested early before becoming overrripe, thus compromising its freshness and acid content.

Risk of bird damage: This variety needs protection from birds because of its early veraison.

Machine harvest suitability: Not well suited, because of high temperatures at harvest time.


Wine type: Quality wine and blend wines

Potential alcohol content: High (11.5 - 13% vol.). (RNSV statistical value: 11.52% vol. (Average of at least 40 clones in Caldas da Rainha over 4 years).

Natural acidity of must: Medium (total acid content, 4.5 – 6.5 g/l; malic acid, 0.4g/l; tartaric acid, 4.4 g/l). Sometimes the acid content falls abruptly below 5 g/l if the alcohol level exceeds 12% in hot regions. RNSV statistical value: 6.09 g/l (Average of at least 40 clones in Caldas da Rainha over 4 years).

Risk of oxidation of must: Medium.

Colour intensity of wine: Medium.

Wine colour tonality: Lemon yellow, light yellowish.

Aromatic profile: ery high level of terpenoid compounds, at over 400 μg/l, with 203.8 μg/l linalool, 186 μg/l α-terpineol, 9 μg/l nerol, and 18.3 μg/l gernaiol. Sensorially, this is confirmed by its aromatic richness. In very hot regions, the wine's aroma can become quite cloying.

Ageing Potential: Recommended that the wine is drunk early, whilst it still retains its fruity aroma. Nevertheless, it has high ageing potential if berries which are not overripe are barrel aged.

Blending recommendation: Arinto, Malvasia Fina, Cerceal Branco, Gouveio, Rabigato, Sercial, Jampal, Tália.

Wine Descriptors: This wine is controversial from an oenological point of view. On one hand, it is admired for its very intense aromatic structure which, with appropriate ageing, results in a classic wine, whilst on the other hand, it is regarded with contempt because of its low acid content as an "inferior" wine lacking ageing potential with a clumsy aroma prone to oxidation. Its most prominent quality is without a doubt its enormous wealth of aroma and flavour, which makes it one of the most aromatic wines available. It has citrus aromas reminiscent of oranges, but also floral aromas of mimosa, linden blossom, orange blossom and bay leaf (V. Loureiro).

Wine quality: Varies greatly from region to region, from fruity, fresh to overbearingly stifling wines. A case in point is the Bairrada where even old wines retain a wonderful freshness.


Variety Characteristics: This variety has a long history in the Ribatejo. It distinguishes itself here from other regions because of its early budburst, crimson red buds and classic undulation of mature leaf. This variety ripens early, has a high alcohol content, low acid, and intense aroma. Both quality and yield vary greatly from one region to another depending on the clone selected.