Rabigato (PT)
Variety: white | Category II | Portugal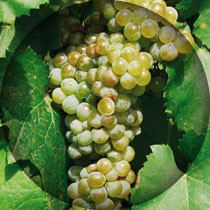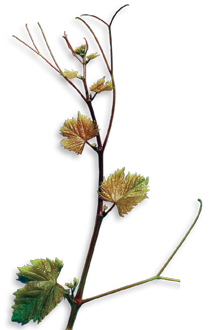 General Information
Rabigato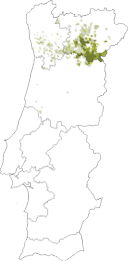 Origin: Ruy Fernandez (1531) noted a variety of this name. Lacerda Lobo (1891) classified this variety in the following sub-regions of the Douro: Vilarinho da Castanheira, Naciães, Termo de Alijó and Murça. Gyrão (1822) mentioned a variety in the Douro called the Rabo de gato as being high in acid, something which is borne out by experience with the Rabigato even today. According to Cincinnato (1900), this variety was grown all over the country at the time.


Chief areas of distribution: Trás-os-Montes.

Official synonym(s) (national and OIV): None.

Historic and regional synonyms: Erroneously, Rabo de Ovelha, and Rabo de Ovelha Francês. Cincinnato (1900) lists 10 synonyms in the country. It is possible that these names were assigned based on the morphology of the bunch only.

Homonym(s): Rabigato Franco (Nº 241), Rabigato Moreno (Nº 242).

Area under cultivation: 2,200 ha.

New plantings: Less than 0.1%.

Trend: Far below the variety's potential.

Varietal variability: Medium to high.

Availability of propagating material: RNSV polyclonal material. RNSV clonal material currently being prepared.


VVMD5
VVMD7
VVMD27
VrZag62
VrZag79
VVS2
Allele1
Allele2
Allele1
Allele2
Allele1
Allele2
Allele1
Allele2
Allele1
Allele2
Allele1
Allele2
222
232
235
235
185
189
186
196
243
251
135
135
DOC quality wine: Porto, Douro, Terras do Sado.

IPR quality wine: Planalto Mirandês.


Regional wine: Trás-os-Montes.


Young shoot (form of tip): Open, no hairs, medium, even anthocyanin colouration.

Young leaf: Yellow to copper with medium anthocyanin colouration, no prostrate hairs and few erect hairs.

Young shoot: Buds and ventral side green. Ventral side with reddish stripes. Anthocyanin colouration absent from buds, medium to large tendrils.

Inflorescence (sex of flower): Hermaphrodite.

Mature leaf: Medium size, pentagonal, mostly five lobes, brigh green blade, profile of blade irregular, slightly undulate, slight blistering of upper side of blade, short rectilinear and convex teeth. Closed V-shaped petiolar sinus. Open U-shaped upper lateral sinuses. No hairs on lower side of blade.

Bunch: Medium to large, dense, medium to long peduncle with poor lignification.

Berry: Small, uniform, sometimes oblate, irregular profile, green yellowish epidermis; thin berry skin, medium frostiness. Flesh colourless, soft and very juicy. Short peduncle, difficult to detach.


Time of bud burst: Early, 1 day before the Fernão Pires.

Flowering: Normal: 3 days before the Fernão Pires.

Berry (colour change): Late, 10 days after the Fernão Pires.

Berry (harvest ripe): Normal, one week after Fernão Pires.


Vigour of shoot growth: Medium.

Pruning weight:: Medium.

Shoot attitude (habit): Semi-erect.

Length of internodes: Medium.

Shoot length: Medium.

Tendency to form lateral shoots: Medium.

Rate of multiple bud bursts: None.

Bud fertility index: 1 = 0.7; 2 = 1.03; 3 = 1.07 flowers per shoot.

Yield: Medium. RNSV statistical value: 1.49 kg/vine (Average of at least 40 clones in Peso da Régua over 2 years).

Yield consistency: Consistent.

Crop uniformity: Uniform.

Sensitivity to abiotic factors: None known.

Susceptibility to fungal diseases: Susceptible to Peronospora, Oidium and Botrytis.

Systemic viral infection prior to selection: 30% GLRaV-1, 30% GLRaV-3, 10% GLRaV-2 and -6, 10% RRV, <50% RSPV.

Susceptibility to Pests: None known.

Bunch size: Large (410 g).

Bunch density: Medium.

Berry size: 1.9 g.

Berry skin: Soft.

Seeds per berry: 2.5.


Vineyard conduction system: Single or double Guyot.

Soil requirement: Prefers dry soils.

Climatic requirements: Moderate climatic zones (at an altitude of 450 - 500 metres in the Douro).

Vine density: All vine spacings traditionally used.

Rootstock: ompatible with all varieties although rootstock with medium and high vigour which has adapted well to the region is recommended, in order to achieve desired maturity.

Irrigation: Responds very well to irrigation.

Incidence of coulure/millerandage: Not susceptible.

Spoilage of mature berries: Insignifcant.

Risk of bird damage: Low.

Machine harvest suitability: Well suited.


Wine type: Table wine, dessert wine.

Potential alcohol content: Medium, 11% vol.

Natural acidity of must: High (5 - 7 g/l)

Risk of oxidation of must: None.

Colour intensity of wine: Medium.

Wine colour tonality: Lemon yellow.

Risk of oxidation of wine: None.

Aromatic profile: Not researched.

Ageing Potential: Good.

Blending recommendation: With varieties low in acid such as the Fernão Pires, Síria, Gouveio and Viosinho.

Wine Descriptors: The aroma is of medium intensity, mellifluous, with a touch of orange blossom, with a few somewhat vegetal components; if immature, it may be a little harsh. Well balanced palate, fresh, with a satisfying fruitiness. In the mouth, the wine is lively, with a somewhat sustained finish (N. Almeida).

Wine quality: High


Variety Characteristics: Variety with good physical viticultural properties and regional flexibility. Because of its high natural acid content, the wine has great potential as a blending partner. With clonal breeding it has been possible to improve its originally low yield significantly, thus possibly providing in future a good alternative for the range of grapevines cultivated in the interior of the country. It is currently authorised only in the North of the country.