Rufete (PT/ES)
Variety: red | Category II | Portugal/Spain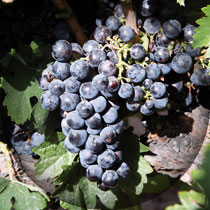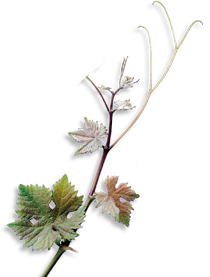 General Information
Rufete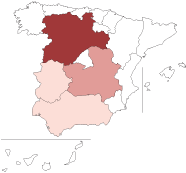 Rufete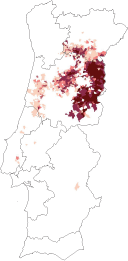 Origin: This variety possibly originated in Spain in the Sierra de Francia, South of Salamanca, and inland in the North of Portugal. Rebello da Fonseca (1790) knew this variety by one of its synonyms. It was described by Vila Maior who used the historical synonym, Tinta Pinheira, and by Rebello da Silva (1890) and Count Odart (1874), who took it for the Pinot Aigret, an opinion which was contradicted by Truel (1984).

Chief areas of distribution: North-West Iberia.

Historic and regional synonyms: Rufeta, Tinta Pinheira, Penamacor.

Homonym(s): In South Africa, this variety is erroneously referred to as Tinta Barroca.

Area under cultivation: 1,090 ha (ES), 5,550 ha (PT).

New plantings: 0.1%.

Trend: Downward.

Varietal variability: Medium.

Availability of propagating material: RNSV polyclonal material. RNSV clone are also being prepared in Spain (Itacyl).


VVMD5
VVMD7
VVMD27
VrZag62
VrZag79
VVS2
Allele1
Allele2
Allele1
Allele2
Allele1
Allele2
Allele1
Allele2
Allele1
Allele2
Allele1
Allele2
226
236
235
253
181
189
188
194
245
247
135
159
Young shoot (form of tip): Half-opened, medium anthocycanin colouration on end, and medium density of prostrate hairs.

Young leaf: Bright green with copper spots. Dense hairs.

Inflorescence (sex of flower): Hermaphrodite.

Young shoot: Red stripes on nodes, green buds. Medium to long tendrils.

Mature leaf: Medium to large, pentagonal, five lobes; medium green, profile of blade irregular, medium blistering of upper side of blade and generally undulate, convex-concave teeth of medium size. Strongly overlapping V-shaped petiolar sinus, often with a tooth on the margin. Well-defined, slightly overlapping U-shaped overlapping upper lateral sinuses. Dense prostrate hairs on lower side of blade. Short petiole.

Bunch: Average size, medium density. Peduncle of medium length.

Berry: Medium in size, roundish, blue-black; very frosted skin of medium thickness, flesh colourless, soft and very juicy, pedicel of medium length.

Woody shoot: Dark brown.


Time of bud burst: Very early, 3 days after the Castelão.

Flowering: Early, at the same time as the Tempranillo.

Berry (colour change): Early.

Berry (harvest ripe): Late to very late.


Vigour of shoot growth: Medium.

Pruning weight:: 1,600 kg/ha.

Shoot attitude (habit): Semi-erect.

Length of internodes: Medium, regular.

Shoot length: Medium to large; good lignification.

Tendency to form lateral shoots: Medium.

Rate of multiple bud bursts: Medium.

Bud fertility index: 1 = 1.69; 2 = 1.87; 3 = 1.96 flowers per shoot.

Yield: Very high (10 - 20 t/ha). RNSV statistical value: 1.91 kg/vine (Average of at least 40 clones in Pinhel over 5 years).

Yield consistency: Inconsistent.

Crop uniformity: Uniform.

Winkler Index: Variety needs a high degree of sun exposure to achieve high yields.

Sensitivity to abiotic factors: Sensitive to a lack of potassium and manganese; does not respond well to extreme heat and drought.

Susceptibility to fungal diseases: Medium susceptibility to Peronospora, susceptible to Oidium and Botrytis.

Systemic viral infection prior to selection: High incidence of GVLR type 3.

Susceptibility to Pests: susceptible to the vine leafhopper and the grape berry moth.

Bunch size: Medium (230 g).

Bunch density: High. Short peduncle.

Berry size: Medium to large (2.7 g), easy to detach.

Berry skin: Of medium thickness.

Seeds per berry: 2.2.


Vineyard conduction system: Adapts to any system. This vine is easy to train.

Soil requirement: Deep, slightly moist soils of medium fertility.

Climatic requirements: Warm, and well suited to the variety's long growth cycle (without rain just prior to harvest).

Vine density: Adapts to all vine spacing practices common in regions where its cultivation is authorised

Rootstock: Compatible with low vigour varieties, such as 3309 C, R110, 420A, 41B, 161-49. (Douro, 1103P).

Irrigation: Note risk of failure to ripen if yield is too high.

Incidence of coulure/millerandage: Very low.

Spoilage of mature berries: Medium to high risk.

Risk of bird damage: Very low.

Machine harvest suitability: Very well suited.


Wine type: Table wine as a blend, quality wine, rosé wine, sparkling wine

Potential alcohol content: Low to medium (11 - 12% vol., good for rosé wines). This often extremely productive variety sometimes does not ripen before the Autumn rains in high yield years. RNSV statistical value: 13,24% vol. (Average of at least 40 clones in Pinhel over 4 years).

Natural acidity of must: Medium (4 - 6). RNSV statistical value: 3.35 g/l (Average of at least 40 clones in Pinhel over 4 years).

Total anthocyanins: RNSV statistical value: 420,72 mg/l (Average of at least 40 clones in Pinhel over 3 years).

Total phenols index (at 280 nm) of must: RNSV statistical value: 29,84 (Average of at least 40 clones in Pinhel over 4 years).

Risk of oxidation of must: None.

Colour intensity of wine: 2.8, Bright ruby red.

Wine colour tonality: 1.

Total polyphenol index (at 280 nm): 23.

Risk of oxidation of wine: None.

Ageing Potential: Very low.

Blending recommendation: With varieties which have a better oenological profile.

Wine Descriptors: Wine with bright ruby colouration, flowery Aroma, a vegetal taste and a light structure. Very low ageing potential. It serves as a blend wine with other Dão varieties, which give it something by way of aroma and acidity (Brito, 2000).

Wine quality: Medium to low.